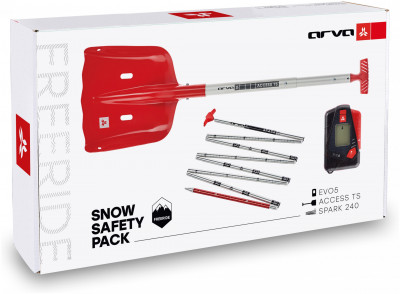 ARVA Evo5 Combo Kit
0 reviews
Beacon, probe, and avalanche shovels are essential for recreating in the backcountry, ARVA's Evo5 Combo Kit has everything you need. The Evo5 beacon is light and compact enough to feel comfortable in your pocket while boasting a 50m searching range, group check, and multiple burial functions. The Spark 240 probe is made from 7075 aluminum tubing and stainless-steel tension cord, which allow the user to use this probe year after year, pit after pit without much wear and tear, making this a very ideal probe for amateurs and professionals alike. The Access TS shovel is durable and reliable due to the 2mm thick reinforced blade and oval shaft creating a rigid design. The ARVA Evo5 Combo Kit will get you ready for any ski touring adventure in one easy package.
Evo5 Beacon - An avalanche transceiver with search bandwidth up to 50 meters.
Digital processor and 3 antennas provide 50 meters of searching range.
A timer (8 mins) after inactivity will revert back to send-mode if you become involved in a secondary burial.
Multi-burial flagging is simple and effective.
Spark 240 probe –compact, strong, and efficient.
Eight 30cm segments will fit in most packs.
Stainless steel tension cable
Pin locking system for quick and reliable deployment
Pull handle snaps onto the shaft to keep it neat and easily accessible.
Access TS Shovel - Simple, sturdy, and reliable.
The telescoping shaft packs down to fit in a pack.
Strong yet light aluminum blade (620g total weight).
Compact blade will fit well in your pack but is large enough to move snow when you need to.
Questions & Reviews
Earn store credit by writing reviews. Learn more.

Model: EVO5 COMBO KIT (EVO5, SPARK 240 PROBE, ACCESS TS SHOVEL)
MPN: ARPACKV3EVO5
UPC: 3700507913472