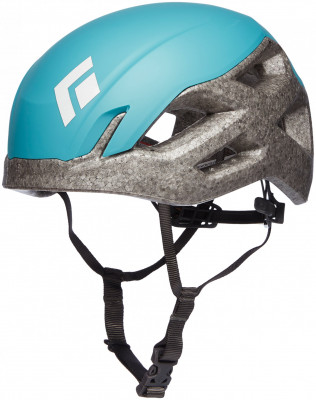 Black Diamond Vision Helmet - Women
0 reviews
The Vision helmet from Black Diamond is a no-nonsense, durable helmet that you'll find yourself using for dawn patrols and once-a-season missions without hesitation. Full of simple and clean features, like the buckled chin strap and the low-profile headlamp clips, the Vision is as close as we've ever seen to striking the perfect balance between simplicity and usability. The Vision combines lightweight material alongside durable and impact-absorbing material in a unique design that Black Diamond calls their "most durable foam helmet."
A protective EPS (expanded polystyrene) foam puck on top of the crown of this helmet keeps the profile low without compromising safety.
Integrated headlamp clips and a low-profile brim keep you lookin not-dorky without losing functionality.
A hard plastic shell covers the top and sides of the helmet, keeping the helmet and your noggin safe.
Durable EPP (expanded polypropylene) foam makes up the front, sides, and rear of the helmet.
Internal pads can be easily removed, helping to ward off incidents of the dreaded stink-head.
The low-profile buckle and simple interior make for a comfortable on-skin fit.
Meets proposed UIAA impact safety standards.
Specifications
Weight
convert to ounces
224g [S/M]
Certifications
EN 12492 (climbing)
Design
Materials
Composite EPP foam, EPS foam puck and polycarbonate shell
Skimo Co Says
Usage
Ski mountaineering, climbing, ice climbing
Notes
13 vents for breathability
Bottom Line
Light, durable, and comfortable helmet
Compare to other Helmets
Questions & Reviews
Earn store credit by writing reviews. Learn more.

Model: Womens Vision Helmet