Travis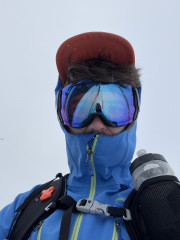 | | |
| --- | --- |
| Gender: | Male |
| Height: | 5' 10" |
| Weight: | 155 lbs |
| Shoe Size: | US 8.00 |
| Skier Type: | Type II - Moderate |
| Ski Frequency: | 25 - 50 days / year |
Recent Posts
I've got about 35k of very on these so far and they've been great. The weight and mobility are excellent. The liner in the carbonio is very thin. Swapped out for a Palau almost immediately, huge improvement. Not a very progressive flex, but it is very even and provides a lot of power transfer. I love it for fitness laps at dawn and for getting after it on long days. I wouldn't go much above a 100mm waisted ski, unless you know the conditions are going to be consistent. I ski them on Atomic Backland 100s and...
I'd probably try the 135. When you choke up on them you can pull of snappier pole plants and the extra length would be nice in flat sections when you have to skate ski a bit.
Mezzalama vs. The Blacklight 74 — how much better will the Blacklight ski? I'm trying to understand how much I'm giving up on the down with a ski like the Mezzalama. Use would be rec races, on piste fitness touring, and maybe a volcano.
Got these and they quickly replaced my two-piece BD poles. I got the 125, but could easily have gotten the 135 (5'10"). Not I bought the purple thinking it was going to be a rich, dark color and it ended up being more lavender. Oh well, I still love them. I like being able to choke up or down to adjust the tempo of my pole plants a ton. Didn't expect that when I got them. Only thing I had to adjust to is how narrow the grip is. Most poles have a thicker grip at the top then these. Would definitely purchase ...
Climbed Mt. Baker and Sahale Peak in this harness. I love the ice screw holders. You might not think it's necessary but up after hours and hours of climbing having one less thing bouncing on your harness is amazing. Super light too. Agree with the other reviewer that you wouldn't want to hang in this thing for a long amount of time.