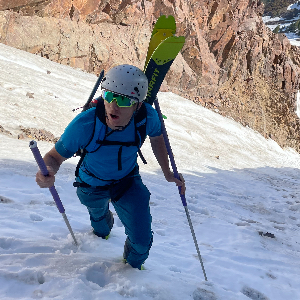 EPoore
Gender
Male
Height
5' 9"
Weight
160 lbs
Shoe Size
US 10.50
Skier Type
Type III+ - Expert
Ski Frequency:
50 - 99 days / year
My Gear
Dynafit for everything and POMOCA skins.
Recent Posts
Kade, I wore a 26.5 in the Hoji Pro Tour and have been skiing in the TLTX in a 27 with a boot board to take up some of the excess volume. I find the extra length to be nice in my lighter (longer day) boots. It also has the added benefit of being the same BSL as my 26.5 Radical Pro (297mm).
Hi Luke, Glad to hear that you are happy with the Cramp-IN thus far. Sadly, the sole adaptors are not yet available as a spare part. I am not expecting to have them in the near future either. I apologize for the hassle that this causes when you have 2 (or three like is my case (-: ) pairs of boots that you would like to use the Cramp-In with.
Hi Justin, having skied both of them. I would say that the Free is a stiffer flex and a narrower lower shell (more of a performance fit). Having worn them side by side, I would say the 130 (Free) and 120 (Pro Tour) flex rating is accurate. There is more room over the top of the foot in the Free which I really appreciate and more room in the ankle. I wouldn't say there's a noticeable difference in the ROM when touring thanks to them using the same Hoji Lock Mechanism. Having been a Vulcan lover for years...