Dermatone Sunscreen & Skin Protection

Dermatone has been protecting the skin of athletes and outdoor enthusiasts for over 30 years. As an official sponsor of the US ski team, they specialize in cold-weather protection. Help prevent frostbite, sunburn, windburn, and ugliness with these fine products.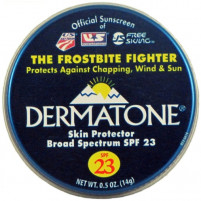 The skin-care products you are mostly likely to find in a skier's possession involve water-repellency, glide-improvement, glop-reduction, and long-term storage. This skin product, however, isn't for your climbing skins but rather is formulated for your ep..
$6.95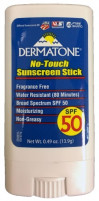 Dermatone's "No-Touch" Sunscreen Stick is the leader in the battle against greasy hands involved in sun protection. It also, of course, battles hard against said sun. At a whopping SPF 50, this moisturizing and fragrance-free sunscreen stick is applied li..
$9.95


The official lip balm of the US Ski team. Unfortunately the US Skimo team isn't recognized in that group yet but fingers remain crossed. While that one hand has crossed fingers, your other hand you can be applying Dermatone's Medicated Lip Balm, the super..
$2.95