An enhanced version of the Revolution WC binding, the Revolution Brake WC is designed for those seeking the podium, albeit with an insurance policy in case their high-speed straight line doesn't go quite according to plan: ski brakes. This also makes the binding compliant with ISMF races that require brakes. To help save valuable seconds while the clock is ticking, ATK uses their s..
Mid January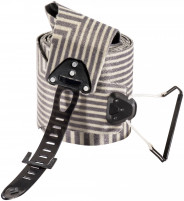 Getting the perfect trim on a new pair of skins might seem like a daunting task, but thanks to Black Diamond's Precut skins, you don't have to worry about that. The Black Diamond Cirque Pre-cut skins are the same as their Ultralite Mix skins which feature a 65% mohair / 35% nylon blended plush material with a thin backing for ultimate packability. What does this mean for you? You g..
Out Of Stock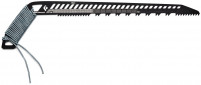 Black Diamond's Guide Snow Saw is a unique multitool. Sure it rips through snow with the razor-sharp teeth, but it also has bonus features that are just what you need when you pull it out. There is a pit cord attached for cutting ECT blocks that stores on the handle, potentially helping with grip while sawing. Also integrated is a crystal card so it really is an many-in-one snow sc..
Out Of Stock