Yaktrax Hand & Foot Warmers

Yaktrax is the ultimate snow-accessory company. Named after the surefooted Himalayan beast, Yaktrax offers solutions to icy problems and promise a higher quality-of-life. The warmers, socks, and slip-on traction devices made by Yaktrax let you walk confidently through adverse terrain, Yak-style.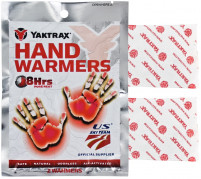 Open it, shake it, and let your worries dissolve away as the heat builds up. With a 5-year lifespan, these hand-warmers heat up to 135°F (57°C) and are odorless, battery-free, and have a place in every backcountry skiers backpack. The air-activated formul..
$1.00