Katadyn Water Filters & Tablets
Katadyn has been making water potable for more than 80 years. The Swiss company products pump filters, cleansing tablets, and industrial products that turn any old water into drinking water. The BeFree bottle and filter is the most portable and easy-to-use filtration system the world has yet seen.


Holy filtration! Katadyn just upped the ante for freedom of movement in the mountains with virtually unlimited water. With careful planning, this might be the only water you carry during an ultralight spring mission. It could also complement and slow the ..
$44.95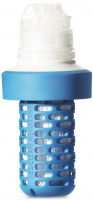 The replacement filter for the Katadyn BeFree filtration bottle. Good for up to 1000 liters on average (may vary depending on sediment levels), this filter removes 99.9% of protozoa and 99.9999% of bacteria. To clean it, just shake, swish, swoosh, dip, or..
$26.95