Majesty Touring Skis

Hailing from the Tatra Mountains in southern Poland, Majesty is an independent ski manufacturer who puts a premium on the skier experience. Handcrafted and continuously tested in the field, Majesty skis are built to last and to deliver fun with every turn.


Born high in the Tatra mountains of Poland, Majesty knows a thing or two about skiing. So, when Majesty made the Superpatrol Carbon Ski that touts a "Cut-off Tail," we were naturally intrigued. Inspired by surfboards, this so-called "Cut-off Tail" shorten..
$994.95

Not just any nova, the Supernova from Majesty is an all-around, high-performance ski with a penchant for the soft white stuff. It partially achieves this versatility using a Cut-Off-Tail, cleverly called COT. By cutting off the tail and moving the skier's..
$994.95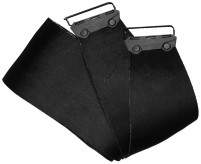 Majesty precut skins are, you guessed it, precut for select models of Majesty skis. Built using Contour's Hybrid technology, these skins offer reliable adhesion in wicked cold temperatures while remaining easy to rip apart. This is truly a "win-win" situa..
$244.95