AllanF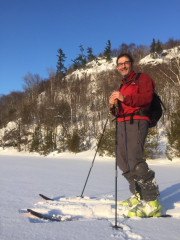 | | |
| --- | --- |
| Gender: | Male |
| Height: | 5' 7" |
| Weight: | 140 lbs |
| Shoe Size: | US 8.00 |
| Skier Type: | Type III+ - Expert |
| Ski Frequency: | 50 - 99 days / year |
My Skiing
I love to ski and ski Telemark, AT and Nordic skiing. I prefer back-country skiing but do it all. I don't ski full on alpine type bindings or boots. I love the aspect of ski mountaineering and the adventure aspect of back-country skiing. I do area ski and it's hard to beat a powder day doing laps off of the lifts as long as it's not too littered with wankers cluttering up the terrain.
My Gear
Boots:
12 Scarpa F1 25.5
Scarpa TX Pro/ Alien Frakenboot 25.5.
Salomon Mtn Lab 26
Garmont Excursions 25.5
Bindings:
Meidjo v2.1
22 Designs Outlaw X
22 Designs Lynx 20
DIY TTS Kreuzspitse/ OMG/ custom
Kreuzspitse TeleAlp
Kreuzspitse SCTTT
G3 Ion LT

Skis:
Faction Prime 3.0, 177cm
Scott Superguide 88, 178cm
Blizzard Zero G95, 178cm
Scott Superguide 105, 175cm
Voile Buster, 176cm
Wagner Custom 140/115/128, 184cm
Voile V6 BC, 173cm
Blizzard Brahma, 173cm
plus classic and skate nordic skis and associated boots and bindings
Recent Posts
I don't have a Plum Race toe to look at but if the tech pins are centered in the mounting hole pattern you should be able to align the holes between the Ion toe holes. If you look st the photo I attached here you can see the two hole patterns on the adapter plate in the foreground that I made to do this same swap with my Kreuzspitze toe.
Kreuzspitze K-18 tension plate and KR tension plate. I bought the K-18 because I found that the screw hole pattern is the same as the Ion heel screw hole pattern. I'm using it to adapt my SCTT heels to the Ion drilled inserts in my skis. I stacked the KR plate on top of the K-18 for greater adjustment so I can ski my Mtn Labs and my Procline Carbon on the same mount. I then made a 10mm Delrin adapter plate for the toe to mount my SCTTT toe to the Ion drilled inserts in the 2 pairs of Scott Superguide skis....
Thanks for the input Nate. I think I'll be fine in these Procline's based on on your feedback. The F1 is not very stiff in fore flex and I'm a long time telemark skier with Scarpa TX Pro's ad F1's as I mentioned. I ski NTN Freerides as my dedicated area binding on one ski, Meidjo 2.0 NTN TeleTech, a DIY TTS and the Kreuzspitze Plate TeleAlp bindings so I'm comfortable driving skis from my ankles. I swap a Kreuzspitze SCTT heel around on Meidjo and Kreuz TeleAlp bindings to be able to lock em down when need...
Hi Jason, How would this boot compare in performance of touring and stiffness to my 2012 Scarpa F1? Thanks for your input.