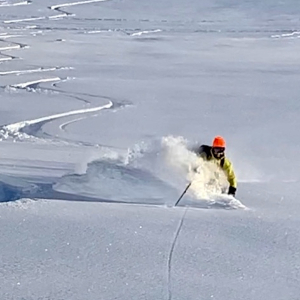 Peter
Gender
Male
Height
6' 1"
Weight
180 lbs
Shoe Size
US 10.50
Skier Type
N/A
Ski Frequency:
50 - 99 days / year
My Skiing
Skiing over someone else's tracks shows a lack of effort or creativity
My Gear
Hoji Pro Tour Boots match with Atomic Backland 107 (189cm) and Volkl BMT 94 (186cm), both with Salomon MTN bindings and Pomoca Climb Pro S-Glide skins

Dynafit TLT8 Carbonio boots match with BD Cirque 84 (171cm) skis, with Dynafit Superlite 150 bindings and Pomoca Race 2.0 skins

Fischer RCS classic and skate skis

Gear of past years
Boots: Scarpa Maestrale, BD Quadrant, BD Push, Scarpa T3
Skis: Voile Hyper Drifter, Blizzard Zero G 85, Volkl Nunataq, BD Carbon Convert, K2 Coomback, BD Justice, Karhu Storm, Karhu Jak BC, Tua Ghost, 10th Mtn Division Army Surplus
Recent Posts
Used this jacket about a dozen times. It has a minimal design, without using flimsy/minimal materials. I have a similar weight puffy from Enlightened Equipment that is made from gossamer fabrics that will never stand up to abrasion like this Dynafit jacket will. No extra material is wasted on the back and waist, where your pack and belt will be. No hood means it layers well under a shell. Napolean style make sense when wearing a pack belt, and are easier to access when this jacket is layered under a shell.
Thanks jbo. I just re-read my review and realize the words are more negative than I feel. 4 Stars is the important thing. Race skins are awesome, and they're going to remain in my quiver. It's been a season of learning what their limits are.
comparison of my 3 sets of skins for BD Cirque 84
Review for those that aren't sure if race style skins are for them: I've been race skin "curious" for many years, but never tried them. Then this season I bought a pair of 1kg class skis and put superlight bindings on them. I went "Full Rando" ;) and bought race skins. I had never used a race style tips, or used a skin without a tail fix. I purchased 85mm Race Pro 2.0, trimmed width a little to fit BD Cirque 84 skis. I cut the length short of the tail, maybe 4/5 ski length. First impressions: H...
The tail kit description says it's shorter than the tail that comes on pre-built skins. The tail ripped off my skins. The buckle needs to be on the last 2-4 clicks of the strap to fit my 186cm skis. So, does this mean the replacement tail kit won't work for me because it will be too short? I just tried installing a G3 tail kit I already have, but it's at least 15mm too short.