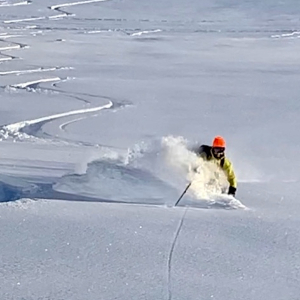 Peter
Gender
Male
Height
6' 1"
Weight
180 lbs
Shoe Size
US 10.50
Skier Type
N/A
Ski Frequency:
50 - 99 days / year
My Skiing
Skiing over someone else's tracks is a lack of effort or creativity
Recent Posts
I have owned 5 pairs of these crampons, still have 3 pairs for my current quiver. They work well. I always keep a set in my touring bag because they're light and small enough to carry "just in case". I recommend them to ski partners. That said, there is an inherent weak point in the design. They neck down to a tiny piece of metal at the rotation pin. I have broken one crampon at that point, during normal use. Dynafit warrantied them, but I was without crampons for a few weeks. I have not tried the A...
I do not recommend these skins. I was a Black Diamond skin evangelist for more than a decade. BD skins just worked with no hassles for me. G3's failed on me, and the euro brands lacked grip and durability. All that changed many years ago (well G3 products still fail for my partners....). I won a pair of these ultralight skins at an event and was super excited to try them, but they're terrible. I got rid of them after just a few days. I echo everything that is said in LCC Skier's review: - they are as t...
I have a few days on these boots, quick review. - Range of motion is listed as a bit less than my old Scarpa F1s (non LT), but it feels like more, definitely less friction in the ankle motion. This is most likely due to the liner. - The stock liner is a torture device. I replaced it with a Palau Tour Lite right out of the box. Even this "thicker" liner is very thin, since I'm used to Intuition tour liners in beefier boots. - The "Hoji style" lock mechanism is so good! I bought this TLT8 because I love t...
I think the description above referring to these as "ski torpedoes" and "like to go big and crash bigger" is maybe a bit of hyperbole, but these are really great powder freeride skis. I didn't want to like them so much, they're just so boring looking, but they've become one of my favorite skis ever. For how damp they are, they are *very* light. They do like big radius turns, especially in the 189cm length, which I love. Many brands do not mix lightweight construction with 185+ cm lengths, so I really ap...
I've used a lot of different skins in 23 years of bc skiing. The Climb Pro S-Glides are my favorite so far. Great glue, good balance of grip and slide, don't soak up much water. The Freerides pack smaller, if you use huge skis. Any brand's race model might glide better....but if you're generally skinning for powder turns and/or "free touring" these are great. except, I don't like the Pomoca trim tool. It doesn't offset enough. I still use the G3 offset trim tool, it's the best.