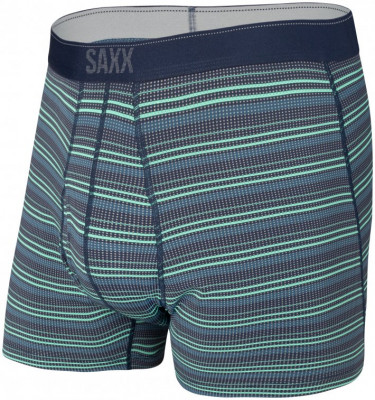 SAXX Quest Boxer Brief
0 reviews
When it comes to the Quest boxer briefs from SAXX the true crown jewel for your crown jewels is the Ballpark Pouch. Don't swing for the fences, keep your balls where they should be - inside the park. Like a hammock for your bits and pieces, you won't swing low (sweet chariot), but rather stay put for comfort and the kind of stability you get from your favorite pair of skis. Sporting a slimmer fit these comfy cats aren't too tight for a top-of-the-line under garment experience. The moisture-wicking material is also quick drying so you can sweat it out and dry them out with confidence and efficiency. The odor resistant feature is super helpful for obvious reasons that do not need to be covered here. Just like your ski buddy the SAXX Quest boxer briefs are sporty, reliable, supportive, and up for any adventure.
Ballpark Pouch is a unique design to keep everything where it should be with no unwanted fraternizing in your pants.
Micro-mesh material is quick drying, moisture wicking and generally awesome for all day comfort.
Three-D Fit hugs your mid-section for a great garment experience.
Slim fit design isn't too tight, but juuuust right.
Odor resistant feature is a welcomed addition on the ride home from the mountains.
Questions & Reviews
Earn store credit by writing reviews. Learn more.

Model: Quest Boxer Brief