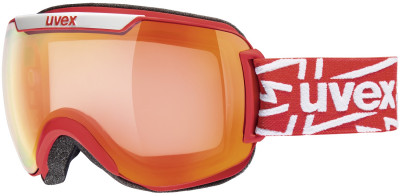 Uvex Downhill 2000 Goggles
0 reviews
If you can't see, you can't ski. Avoid that problem with the Downhill 2000 goggles. German industrial giant Uvex makes the best lenses in the industry, in terms of break-resistance, anti-fog technology, and distortion-free vision. Because of this, Downhill 2000s are great for racing, touring, and ski mountaineering. The goggles feature Supravision® anti-fog treatment, which has double the blur-resistance of industry norms. They also incorporate decentered lens technology, which eliminates distortion and warping that can interfere with vision, especially at high speed. Finally, all Uvex lenses pass rather extreme mechanical protection tests to ensure protective strength. In short, the Uvex Downhill 2000s are the highest quality goggles for competition and mountain adventures.
Class 1 injection molded lenses are provide distortion-free vision.
Variomatic lenses are fast changing and adapt to a wide light range.
Supravision treatment exceeds EN 174 tests which means no-fog.
Lenses can withstand impact from a 6mm steel ball fired at 160km/h.
100% protection from all damaging UVA, UVB, and UVC light.
Double lenses trap air to reduce the fogging of a single lens.
Additional Polavision® technology reduces scattered light/glare.
Questions & Reviews
Earn store credit by writing reviews. Learn more.

Model: Downhill 2000