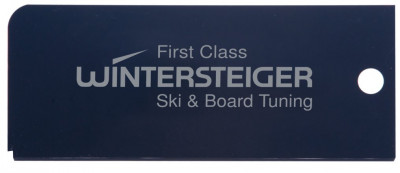 Wintersteiger Plexi Scraper
1 review
Wider skis need wider gear. Wider skins, wider stance, wider skin track, wider scrapers! Wintersteiger's 5mm plexi scraper is what you want when it comes time to get your powder boards ready for that inevitable deep day that we know is just around the corner. The 5mm thick build leads to a smooth motion that won't flex and dig into your bases. A steady hand, a sturdy scraper and a powder obsessed mind are the perfect combo for fast and fun days out in the snow.
Questions & Reviews
Works fantastic! A sharp scraper is such a treat, especially compared to my old one. At 6", it fits my skis great with a little bit extra wiggle room.... Who says size doesn't matter.
Comment on this review:


Earn store credit by writing reviews. Learn more.

Model: Plexi Scraper
MPN: 57-203-111
UPC: 004000000589