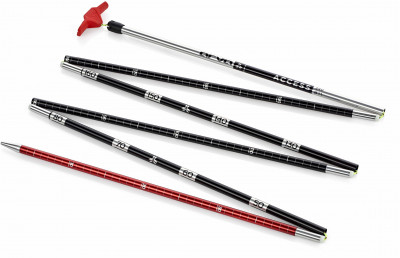 ARVA Access 240 Probe
0 reviews
$49.95
In Stock & Ships Today
The backcountry is a sacred place where the cares of our busy day-to-day should be forgotten. Conversation should revolve around the excitement for the skiing to come, the sting of cold air in your lungs, the majesty of sparkling snow and towering trees. Or, you can talk about gear and how psyched you are that you picked up ARVA's Access probe! This lightweight gem will inspire confidence in your touring partners without weighing you down. An 11mm shaft made of strong 7075 aluminum breaks down into six 40cm segments to give you 240cm of length should that time ever come to start poking around in the debris. The details are covered with markings on the shaft to show snow depth and a locking handle that attaches to the probe to keep it out of your way once deployed. ARVA's FLASH LOCK system is quick, easy, efficient, and reliable so you can go from stashed to searching in no time. When you're out touring, the gear you use the least may be the most important that you can carry. Keep it light and keep everyone safe with ARVA's do-it-all Access probe.
11mm shaft made of 7075 aluminum is stout and durable, yet light for the uphill.
FLASH LOCK system is easy to deploy for seamless transitions from the pack to the searching.
Pull cord handle attaches to the shaft to keep it out of your way as you work.
At a full length of 240cm there is plenty of probe to help find your partner.
Kevlar tension cord keeps the interlocking sections tight with incredible durability.
Update 2022/23: The color has changed but otherwise the probe remains the same.
Specifications
Lengths (cm)
240
Weight
convert to ounces
210g
Collapsed Length
44cm
Sections
6
Specs Verified
Yes
Design
Materials
7075 aluminum shaft, Kevlar cord
Skimo Co Says
Usage
Everyday touring, racing
Notes
FLASH LOCK system is quick and easy to deploy
Bottom Line
Simple and lightweight, everything you need for touring
Compare to other Probes
Questions & Reviews
Earn store credit by writing reviews. Learn more.

Model: Access Probe