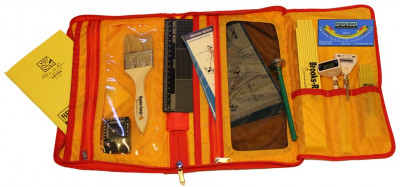 Brooks-Range Digital Pro Study Kit
0 reviews
Brooks-Range's Digital Pro Snow Study Kit improves upon the basic kit by giving you all the best tools to make snowpack evaluations. Ideal for advanced students taking a Level II or Level III avalanche course or any pro looking to update their kit. The Digital Pro kit has everything you need to measure avalanche conditions, all wrapped in a great organizing case.
Fieldbook #311 - Allows you to write under any condition regardless of how wet or cold.
Ski Guide Card Set - 18 Ski Guide cards covering backcountry planning, safety, and rescue.
Slope Meter - Accurately measure the angle of any slope.
2-inch Snow Brush - For use in snow study pits.
Folding Magnifier X10 - For viewing snow crystals up close.
2x Digital Thermometers - To document the snowpack's temperature and easily recognize if there is a gradient. Auto shut off, C° and F° scales.
Snow Crystal Card Pro - 3 textured grids for examining snow crystals and doubles as inclinometer. Backside has snow pit "prompt legends".
100cm & 200cm Folding Rulers - For documenting a snow pit with precision.
Snow Study Organizer Pro - A large, zippered organizer with pockets and loops for all your snow science tools.
Questions & Reviews
Earn store credit by writing reviews. Learn more.

Model: Digital Pro Study Kit
UPC: 0897502001693