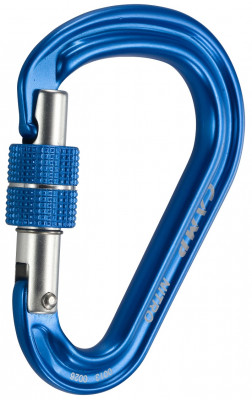 CAMP HMS Nitro Lock Carabiner
0 reviews
CAMP's HMS Nitro Lock is among the lightest locking carabiners in the world and yet remains very strong and functional. The Nitro was shaped specifically to enable smooth Munter-hitching your way down a rope. With the huge, wide-open body there is plenty of clearance for just about any rope you can tie with the famed hitch. This means you can save weight by leaving behind your belay device. If you have a belay device, no problem; the HMS Nitro Lock also works great for the other things you typically do with a 'biner.
HMS was thankfully abbreviated from the German word "Halbmastwurfsicherung."
Keylock nose works well with belay devices and reduces the chance of a snag.
Burly I-Beam construction is strong, very lightweight, and friendly to ropes.
EN 12275 certified.
Specifications
Weight
convert to ounces
56g
Dimensions
104mm x 74mm
Specs Verified
Yes
Design
Gate Style
Screw lock
Major Axis Strength
21 kN
Minor Axis Strength
9 kN
Open Gate Strength
7 kN
Materials
Aluminum Alloy
Skimo Co Says
Usage
Light-n-fast alpinism
Notes
Shaped for Munter hitches
Bottom Line
No rap device, no problem
Compare to other Carabiners
Questions & Reviews
Earn store credit by writing reviews. Learn more.

Model: HMS Nitro Lock
UPC: 8005436009162