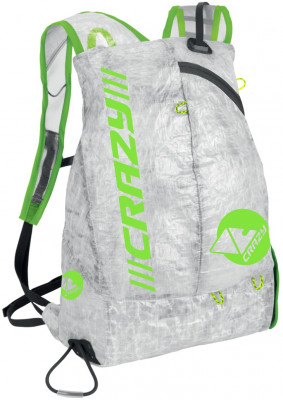 Crazy Idea Cloud DNA Pack
0 reviews
No, that is not wax paper. That is Cubic Tech's CTF³ ultra-light fabric. It consists of specially arranged and prepared Dyneema fibers, which of course you know as ultra-high-molecular-weight-polyethylene. For those non-chemists out there, the fibers are amazingly strong and light. The resulting fabric is waterproof, tear-resistant, and most unimportantly, flame retardant. The Crazy Idea Cloud DNA is a skimo race pack built with this fabric that has all the features you've come to expect. You cannot get lighter than this pack, yet it is no weakling. Enjoy your trip to the clouds.
Rapid ski attach/release system means no taking off your pack.
Ergonomic shoulder straps are made with a breathable mesh.
Side access crampon compartment has a quick Velcro closure.
Shovel blade pocket and internal loops for the handle and a probe.
2mm Dyneema loops for attaching ice axe, partner tow and ski carry.
Chest strap with a whistle ticks a requirement for some races.
Specifications
Weight
convert to ounces
244g
Volume
15L
Access
Diagonal, side
Hydration
H2 bag compatible
Ski Carry
Rapid attach/release
Shovel / Probe
Internal compartment & straps
Ice Axe
Loop for rigging
Stash Pockets
No
Security Pocket
No
Team Tether
Loop for rigging
Whistle
Yes
Specs Verified
Yes
Skimo Co Says
Usage
Racing
Notes
Nice secure ski carry
Bottom Line
No joke light
Questions & Reviews
What's the topside ski attachment on this pack? I don't see a hook. Thanks.
Hi Scott, that strand of webbing over the right shoulder is a wrap-around latch.
Answer this question:


Earn store credit by writing reviews. Learn more.

Model: Cloud DNA
UPC: 8059897358857