jbo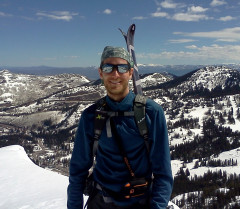 | | |
| --- | --- |
| Gender: | Male |
| Height: | 6' 1" |
| Weight: | 160 lbs |
| Shoe Size: | US 10.25 |
| Skier Type: | Type III+ - Expert |
| Ski Frequency: | 100+ days / year |
My Skiing
I spend most of my ski days in the Wasatch backcountry. I love all types of skiing, from lapping powder to technical chuting. I ski solo a lot of the time and probably should get more partners. Look me up if you're interested.
My Gear
I'm fortunate enough to have several setups and access to even more.
I've been using the Ski Trab Magico with Gara Titan Release bindings a ton. Often with Sportiva Syborg or Fischer Travers Carbon boots. I also ski a lot on the Movement Response-X 177 w/ Kreuzspitze SCTT bindings. Really loved the Hagan Y-Flows but those are now my favorite rock skis.
Recent Posts
Hi Andy, I think the Helio 95 might be closer to that OV (original Vector) feel. The Hyper has a shorter radius and the FINDr is planky.
Hi Quinn, firm snow is not the Objectives specialty. I feel the Speed 90s edge a bit better with the mini sidewall, but it's also not their specialty. I'd reach out to help@skimo.co for a personalized deep dive!
Hi Steven, yes they are the same!
Hi Ben, whether the flat-gap is large enough in soft snow (it's fine on hard snow) can depend on your size and the stiffness of your ski. It's possible to increase the gap if flat touring comfort is your primary concern.
Hi Andy, the F1 LT comes from the same mold and is not materially different in width. We've had some internal debate, and some of us feel like it's a touch wider out of the box due to the liner and/or positioning. My foot couldn't tell any difference between it and my Alien RS that has been well skied (and liners replaced once). With a custom fit in our shop, there would be no difference.