jbo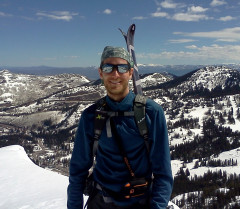 | | |
| --- | --- |
| Gender: | Male |
| Height: | 6' 1" |
| Weight: | 160 lbs |
| Shoe Size: | US 10.25 |
| Skier Type: | Type III+ - Expert |
| Ski Frequency: | 100+ days / year |
My Skiing
I spend most of my ski days in the Wasatch backcountry. I love all types of skiing, from lapping powder to technical chuting. I ski solo a lot of the time and probably should get more partners. Look me up if you're interested.
My Gear
I'm fortunate enough to have several setups and access to even more.
I've been using the Ski Trab Magico with Gara Titan Release bindings a ton. Often with Sportiva Syborg or Fischer Travers Carbon boots. I also ski a lot on the Movement Response-X 177 w/ Kreuzspitze SCTT bindings. Really loved the Hagan Y-Flows but those are now my favorite rock skis.
Recent Posts
Hi Nick, the gap has not changed since the introduction of the Radical 2.0, now the ST Rotation. The binding in the photo looks properly adjusted; the pins are not meant to go all the way into the plastic of the boot...that extra space lets the boots also work with gapped bindings.
Hi Evan, a good way to tweak the tail length is to swap the tip buckles. A wider buckle will let the skin sit further back on the ski, extending its reach. This is why Pomoca includes two sizes in some of their kits, and you can also buy them separately. Note Contour has some even wider ones (115mm) for oversize planks.
Hi Nick, yes we would expect you to pre-release with that amount of gap on the Rotation. You should be able to adjust the heel closer if it was mounted near the center of the track.
Hi Eric, the little plastic locker pieces are available in the droplist above as the Speed Toe Lockers.
Hi Jason, I like to drill out 3.5 holes with a 4.1 bit before putting in the plugs. They slide in much easier that way.