jbo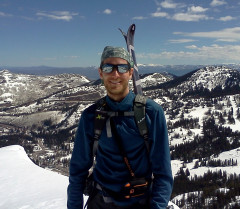 | | |
| --- | --- |
| Gender: | Male |
| Height: | 6' 1" |
| Weight: | 160 lbs |
| Shoe Size: | US 10.25 |
| Skier Type: | Type III+ - Expert |
| Ski Frequency: | 100+ days / year |
My Skiing
I spend most of my ski days in the Wasatch backcountry. I love all types of skiing, from lapping powder to technical chuting. I ski solo a lot of the time and probably should get more partners. Look me up if you're interested.
My Gear
I'm fortunate enough to have several setups and access to even more.
I've been using the Ski Trab Magico with Gara Titan Release bindings a ton. Often with Sportiva Syborg or Fischer Travers Carbon boots. I also ski a lot on the Movement Response-X 177 w/ Kreuzspitze SCTT bindings. Really loved the Hagan Y-Flows but those are now my favorite rock skis.
Recent Posts
Hi Peter, that's the only difference.
Hi John, there is negligible difference in the Dynafit half-size liner vs whole. 15mm isn't too long, but length is only one factor. If the shell does not match your foot well, it will be an uphill battle. Your could play with an insole or boot board to try and take up space, or yes, try a thicker liner. The Palau LT is not significantly thicker.
Hi Mark! Sadly, Dynafit pulled this product. Maybe because there were too many photos of EBunce's voluptuous behind?
Hi becca, the women's and men's sizing is the same with Ski Trab gloves. I just uploaded a new size chart which may help.
Hi Forrest, we have good data on toe-only twisting retention and there is some jaw opening spring strength data out there. Both give clues but nothing fully simulates your kick turns. While they have a more traditional design versus the Trab toes, the Plum race toe springs are relatively strong and may be enough unlocked in some terrain, but expect to use the lock mode.