jbo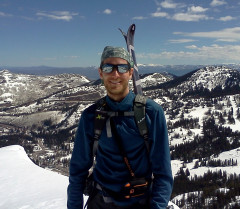 | | |
| --- | --- |
| Gender: | Male |
| Height: | 6' 1" |
| Weight: | 160 lbs |
| Shoe Size: | US 10.25 |
| Skier Type: | Type III+ - Expert |
| Ski Frequency: | 100+ days / year |
My Skiing
I spend most of my ski days in the Wasatch backcountry. I love all types of skiing, from lapping powder to technical chuting. I ski solo a lot of the time and probably should get more partners. Look me up if you're interested.
My Gear
I'm fortunate enough to have several setups and access to even more.
I've been using the Ski Trab Magico with Gara Titan Release bindings a ton. Often with Sportiva Syborg or Fischer Travers Carbon boots. I also ski a lot on the Movement Response-X 177 w/ Kreuzspitze SCTT bindings. Really loved the Hagan Y-Flows but those are now my favorite rock skis.
Recent Posts
Hi clark, it's not really comparable. These are stiffer but less supportive. You can learn to ski them just as well or better.
Hi Franklin, Good question, we haven't tried the aftermarket Montana liquid. The glue on the kits from Montana is super (too) sticky! It's always a bit of experiment mixing glue and backing from different vendors.
Hi Clark, nice price! It was a decent boot, good skiing and awesome walking. Fit is usually the crux on carbon boots since they can't be modified.
Hi Emily, they can be hard to measure. The options for the Radical 2.0 were 90mm or 105mm. You definitely want the 105s.
Hi Kyle, sorry the design photos must be with the rental track. These ship with the +/- 12mm plates. It is the same hole pattern either way.