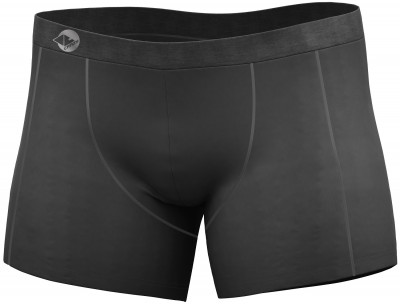 Crazy Idea Proton Boxers
1 review
It's only fitting that Crazy Idea is the company to debut the world's fastest undies. The Protons are the first boxers designed specifically for the unique rigors of skimo racing and backcountry skiing. The Proton features an athletic fit which helps keep your cargo secured. The quick-drying material's sweat-wicking powers regulate temperature for a dehumidified and climate-controlled environment. This eliminates two banes of humanity: swamp-ass and infertility. Flat-lock seams add to the silky smooth appeal and ensure comfort over a long day. Don't be surprised if you order two or three more after you wear your first pair.
Athletic Fit makes sure your luggage is properly stowed in the overhead bins.
Flat-lock seams are so smooth you won't even notice them.
Quick-Drying Fabric for maximum climate-control.
Specifications
Waist
Elastic
Design
Fit
Athletic
Materials
Polyester
Seams
Flat-locked
Skimo Co Says
Notes
Helps protect your lineage
Bottom Line
Comfort where it counts
Questions & Reviews
It's hard to state just how good these are without getting overly personal. Let's just say that the global quality of life index probably has a direct correlation with the amount of people in any given location wearing these things.
Comment on this review:


Earn store credit by writing reviews. Learn more.

Model: Proton Boxer Short