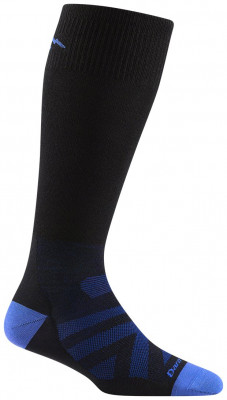 Darn Tough RFL Junior Socks
0 reviews
$17.95
In Stock & Ships Today
As many parents know, kids stink. No, not figuratively, but literally. Kids have sweatier feet than adults, which can lead to more bacteria buildup, causing an increase in the offensive odors wafting your way from your child's footwear. Darn Tough is fighting for you and your olfactory bliss with the RFL Junior skis socks. Being constructed with 41% Merino wool, these socks are naturally wicking and odor resistant, especially when compared to socks made primarily with "synthetic" fibers. The ultra-light cushion eases the challenge of putting on ski boots while the tighter performance fit keeps the sock from bunching up inside of the boot. Still being made in Vermont (we like to envision by very caring Grandparents), you know these socks are quality and made to last. Say "NO!" to wet and stinky feet, get the Darn Tough RFL Junior Ultra-Light ski socks.
41% Merino wool is naturally wicking and odor resistant.
Performance Fit keeps the sock from uncomfortably bunching up.
True Seamless Technology is more comfortable next to skin.
Flex Windows reduce bulk, allowing the sock to move naturally with you.
Related Products
Questions & Reviews
Earn store credit by writing reviews. Learn more.

Model: Darn Tough RFL JR OTC Ultralight Socks
MPN: 3034