3/11/2013

Dynafit Race Bindings

As we mentioned in our article Dynafit Radical vs Vertical, Dynafit has set the standard for lightweight bindings in the past couple decades. Also known as tech bindings, these light mechanisms were designed to be safe and flexible, with adjustable release settings and boot sole length customization to help you get dialed in. The advent of Randonnée racing, however, prompted Dynafit to push the boundaries to see just how light these bindings can become. As it turns out, removing the design restrictions necessary to accommodate adjustability can really shed some grams. Let's take a closer look.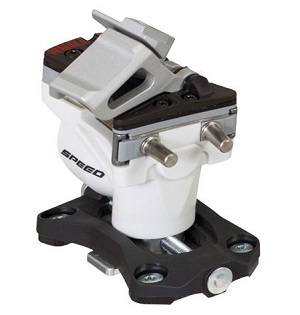 As you can see, the Low Tech Race binding on the left is significantly less bulky and featureful as the Speed Radical binding on the right. At the base, Dynafit removed the fore/aft adjustment screw and turned a four hole mounting pattering into a three hole pattern. Higher up, the climbing bars have been scratched in favor of a simple plate to cover the heel pins. If it's not evident, the Low Tech Race binding does not rotate like the traditional Dynafit bindings so you don't actually have a "flat" setting with no riser. By eliminating all these features and using a special blend of titanium, aluminum, and magnesium, Dynafit managed to shave 236 grams or 8.3 ounces off each binding as compared to the already lightweight Speed Radical. This tally includes savings in the toe pieces, seen here: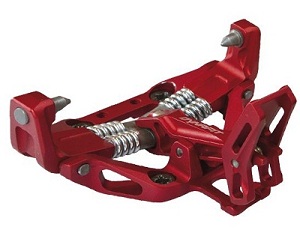 As you can see, the Low Tech Race binding on the left is missing the Power Towers under the pincers and is shown without a crampon attachment (though one is included). The funky looking toe lever has a special feature that racers enjoy: it automatically locks into uphill mode when you step in. In fact, the toe doesn't have a unlocked ski mode, which means it may not fully release in a fall (telemark style). If this concerns you, Dynafit has an answer in the form of the Speed Superlite binding. This fairly new race class binding adds back in a few safety features while keeping the weight down as much as possible. Compare: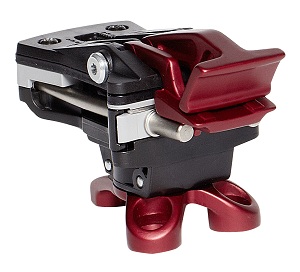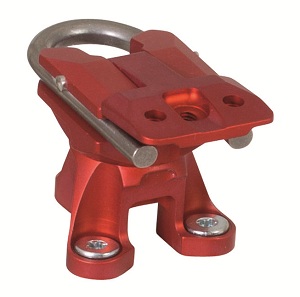 The Speed Superlite heel on the left has a single adjustment screw that changes both the lateral and vertical release values. It has a similar three hole mounting pattern as the Low Tech Race heel on the left, but adds an additional riser to help with those steep hills. These changes add back 75 grams (2.6 ounces) of weight, which seems like a reasonable penalty to pay for added flexibility and slightly easier climbs. This difference also includes the toes, seen below: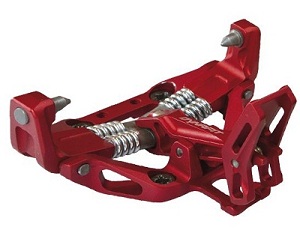 As you can see on the Superlite toe on the left, there is a more traditional locking mechanism, meaning you have to pull up on the lever to switch into locked uphill mode. The Low Tech Race toe on the right enters lock mode automatically, possibly saving a second or two during a race transition.
As far as price, the Low Tech has a high tech price, weighing in around $800, or double the more traditional Speed Radical. The Speed Superlite splits the difference at $550, saving a bit in materials by using more easily forged 7075 aluminum. Unfortunately, we do not have podium statistics to objectively compare results; however, we are confident either of these race bindings will get you to the top in a hurry.
Related Products
Continued reading