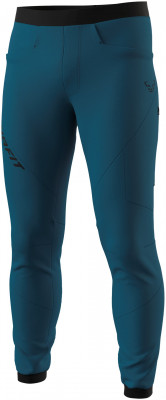 Dynafit 24/7 Warm Pant
0 reviews
They're named 24/7 for a reason! Most of us can't ski 24 hours a day for a whole week straight, so the Dynafit 24/7 Warm pant is here to fill in the gaps whenever you're not skinning, booting, and carving. However, we do recommend at least washing your Dynafit 24/7 Warm pant occasionally since you'll probably wear them daily (and nightly). Not only is the waist elastic, but also adjustable so you can refill that bowl of popcorn as many times as you want. After all, post-tour lounging should be mandatory. If you prescribe to the work hard, play hard, and relax even harder mantra, then these pants are a perfect match for your lifestyle. Open pockets on the front give you somewhere to put your hands while you wait for your Hot Pocket to warm up. The cargo pocket on the leg is a great place to stash all the napkins you're gonna need. With the 24/7 Warm pant, casual looks and feel meet stylish function from the bedroom to boardroom - ok, maybe not quite business casual.
The waistline is both elastic as well as adjustable for maximum comfort for all.
Two open front pockets give you space for your wallet, cell phone or whatever you need during nap time.
QuickDry material is nice when you forget to turn on the dryer but just can't wait to get comfy.
Textured inner face fabric gives a great next to skin feel.
Articulated knee design moves more freely as you romp around your home.
Design
Materials
Main Material: 62% polyamide, 27% polyester, 11% elastane
(bluesign® approved)
Pocket Lining: 100% recycled polyester
Related Products
Questions & Reviews
Earn store credit by writing reviews. Learn more.

Model: 24/7 Warm Pant
MPN: 71510