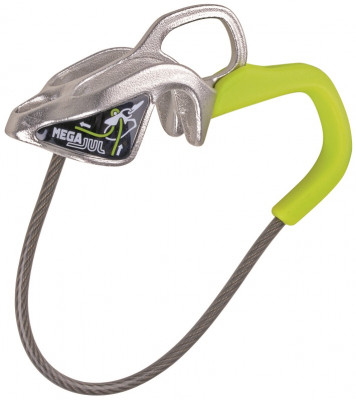 Edelrid Mega Jul Belay Device
0 reviews
The Edelrid Mega Jul belay device is the big sister of the Micro Jul. Designed to work with bigger diameter ropes.the Mega Jul is a versatile belay and rappel device made of solid stainless steel for durability.The assisited braking thub loop (green covered section at the top give more control. The large steel loop attaches to anchors so the device can lock up without using a brake hand as your second top rope up to you.
For belaying a leader or bringing up 2 seconds, also suitable for rappelling
Very lightweight stainless construction
High braking performance assists the belayer with leader falls
Small eyelet for releasing unit with a carabiner when bringing up your partner
Rope can be paid out faster to a leader by holding device in the "open" position with the thumb
Suitable for 7.8 - 10.5 mm ropes
7.8 or greater twin ropes
Questions & Reviews
Earn store credit by writing reviews. Learn more.

Model: Mega Jul
UPC: 4021574193246