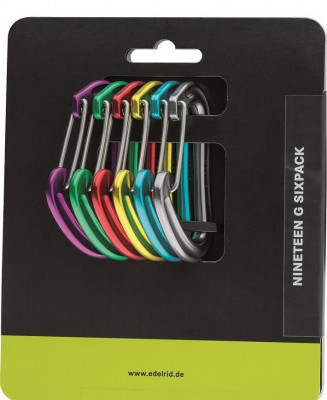 Edelrid Nineteen G Carabiner Sixpack
0 reviews
Edelrid's Nineteen G Sixpack of carabiners is the world's lightest six-pack of full-strength carabiners. It's may be the lightest six-pack of any kind, for that matter. Comprised of a robust aluminum alloy, the entire pack of wire-gate 'biners weighs a mere 117g. But they will hold you: the Nineteen Gs even went through a hardening treatment for extra durability. Great for personal anchors, quick-draws, or clipping things to your pack (and being around for an emergency). This isn't your abusive father's 6-pack, thank goodness.
CE 0333 Certification, the ultimate in safety certification.
Color scheme matches cams, which further increases your climbing game by being color coordinated.
The lightest full-strength carabiner on the market.
Specifications
Weight
convert to ounces
117g [Sixpack]
19g [Individual]
Dimensions
78mm x 50mm
Design
Gate Style
Wire
Major Axis Strength
20 kN
Minor Axis Strength
7 kN
Open Gate Strength
7 kN
Materials
Hardened aluminum alloy
Skimo Co Says
Usage
Anchors, pack danglers
Notes
Multiple colors
Bottom Line
The lightest carabiner on the market
Questions & Reviews
Earn store credit by writing reviews. Learn more.

Model: Nineteen G Sixpack
UPC: 4021574243439