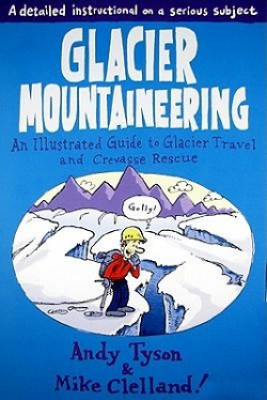 Glacier Mountaineering - An Illustrated Guide
1 review
Andy Tyson is a seasoned NOLS Instructor, guide for Alpine Ascents International, and a veteran Exum Mountain Guide. Needless to say, Andy has years of high mountain experience. Mike Clelland is a NOLS instructor and the life-breath of this wonderful book. The two of them got together to write Glacier Mountaineering which is an intelligent guide to safe-travel on glaciers with a unique feature: it's a hilarious read that you can't put down. The book is chock-full of funny cartoons explaining self-arrest techniques, all kinds of knots and their uses, and various types of equipment. If you are looking to add mountain travel that's well-above the tree-line to your life, consider reading Glacier Mountaineering - An Illustrated Guide to Glacier Travel and Crevasse Rescue. Reading cover to cover in one sitting isn't uncommon.
Questions & Reviews
I have read and referenced this book many times over the years. It has a ton of great info on glaciers and how to travel on them. Tons of detailed illustrations on rope tactics and hauling. If you ski in glaciated terrain like I do then this is a great book to read! I really appreciate the natural history aspect of glaciers early on. There are also great step by step illustrations for the common hauls like the 3:1.
Comment on this review:


Earn store credit by writing reviews. Learn more.

UPC: 9780762748624