Grivel Ski Mountaineering Gear

With offices on both sides of Mont Blanc, you can bet Grivel products have been thoroughly field tested. Originally started and still headquartered on the Italian side in Courmayeur, the company has been making alpine gear since 1818. To put that in perspective, that's before Illinois was a state.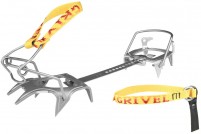 Solve your boot-to-crampon compatibility issues with the SkiMatic 2.0 attachment system from Grivel. With the levering bail at the front of the boot instead of the rear, you no longer have to worry about a collision with ski/walk mode mechanisms on alpine..