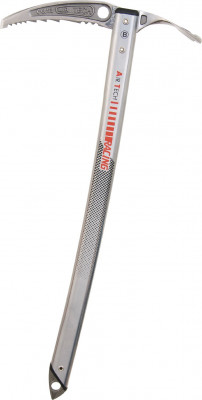 Grivel Air Tech Racing Ice Axe
1 review
Grivel proudly touts the Air Tech Racing as the lightest forged-steel ice axe in the world. The ATR is a no-compromises mountaineering tool for serious adventures where weight is of utmost importance but strength and durability cannot be compromised, even a little. A slightly curved shaft facilitates greater leverage in the case of self-arrest. The Grivel Air Tech is a burly axe that is still lightweight.
Forged chromoly-steel head can take some abuse.
Slightly curved shaft helps with picking and self-arrest.
Shaft resists 280kg in the UIAA pressure tests.
Specifications
Lengths (cm)
48, 53
Weight
convert to ounces
402g [48]
420g [53]
Specs Verified
Yes
Design
Materials
Forged-steel head, aluminum shaft
Skimo Co Says
Usage
Mountaineering, ski or otherwise
Notes
Burly head
Bottom Line
Lightweight dependability
Compare to other Ice Axes
Questions & Reviews
This is an axe for using. The adze is a serious big scoop for moving snow and ice fast (eg rappelling off a bollard) and plenty wide and contoured for self-belay grip with big summit mitts. It's comfortable bare handed as well. The pick is long with enough teeth and taper to bite into ice without being so aggressive as to undermine self arrest. I put a slider pinky rest on mine for steeps, which slides freely on the shaft for plunging but comes to rest on the spike rivet for swinging and pulling. Overall I think the extra functionality is worth the weight for trips where you'll be using all three ends and in that sense it outperforms more specialized tools.
Comment on this review:


Earn store credit by writing reviews. Learn more.

Model: Air Tech Racing