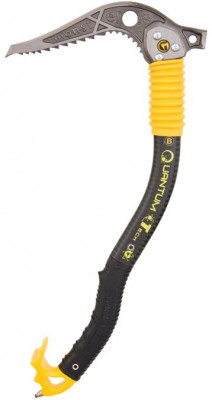 Grivel Quantum Tech Ice Tool
0 reviews
Sometimes mountaineering axes just won't cut it. If you need a proper ice tool for a route, check out the Quantum Tech from Grivel. They are an ultralight combination of aerospace grade composite shafts and hot-forged chromoly steel heads. No compromises were made on the Quantum Tech; extra care was taken in the orientation and reinforcement of the carbon fibers that make up the shaft. Hot-forging the heads improves the internal microstructure to achive maximum strength from the alloy. The axes are finished with an efficient hand-support and Tungsten Carbide spike. Available with and adze or hammer, the Quantum Tech is the ultimate tool for technical routes.
Top quality carbon composite shafts reinforced with light alloy matrix.
Chromoly heads are hot-forged to minimized internal defects and porosity.
Tungsten Carbide spikes are harder than ice, rock, and probably you.
Comfortable hand grips are supported by shaped spike mount.
Available with and adze (shovel) or hammer heads.
Specifications
Lengths (cm)
50
Weight
convert to ounces
532g [Hammer]
573g [Adze]
Specs Verified
Yes
Design
Materials
Carbon composite, chromoly steel, tungsten carbide
Skimo Co Says
Usage
Ice climbing, alpine routes
Notes
Hot-forged head is top quality
Bottom Line
Ice tool without compromise
Questions & Reviews
Earn store credit by writing reviews. Learn more.

Model: Quantum Tech