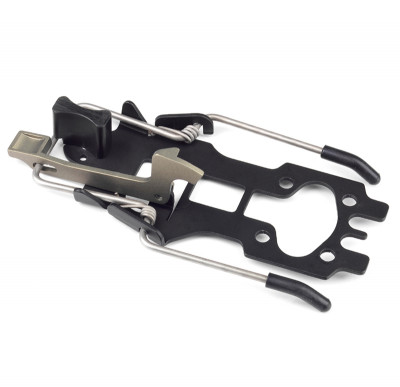 La Sportiva RT Brakes
0 reviews
A patented design makes these brakes a very unique option for La Sportiva's RT bindings. Unlike most ski brakes, these attach to the toe piece of the binding, allowing the brake to retract while in touring mode in addition to normal skiing mode. This lets you not worry about losing your ski over a cliff while descending rolling ridgelines while still in uphill mode. These also feature a handy switch to keep the brakes retracted when transporting or waxing them. All this at an incredibly lightweight 64-72 grams (2.3-2.5 ounces) each, depending on the size.
Made with Ergal® 7075 Aluminum, Stainless Steel Springs, Stainless Steel Pins and Stainless Steel Brake Arms.
Available widths are 75mm, 91mm, and 105mm.
As mentioned in our article on La Sportiva Bindings, the company recommends keeping the brakes retracted when not in use or throwing them into your car. This can prevent uncessary damage to the lightweight, thus somewhat delicate, stoppers.
Questions & Reviews
Earn store credit by writing reviews. Learn more.

Model: RT Brakes