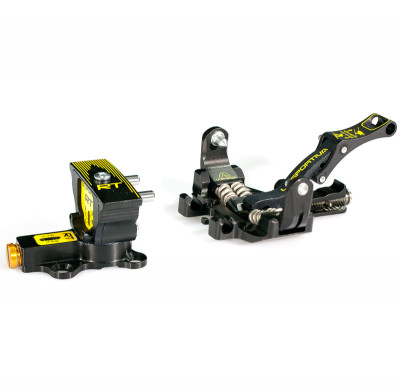 La Sportiva RT Binding
0 reviews
La Sportiva's RT Binding is a lightweight yet adjustable tech binding for racing and long or fast tours. Weighing in at just 30 grams more that La Sportiva's World Cup race binding, the award winning RT features three riser heights and full release value adjustability. It also has the option to add innovative lightweight brakes, making this the lightest binding on the market that is resort friendly without leashes.
Unique release adjustable toe piece, ranging from roughly 8-14 on the DIN scale in tour mode.
Separate lateral release and vertical release adjustment screws in the heel, which is unusually flexible for this binding weight.
Dynafit compatible with hardened steel heel pins.
Rotating heel piece lets you pick from flat-plus-two riser heights.
Integrated attachments for optional crampons prepare you for those icy days.
Optional braking system not included.
Please note that the picture does not show the highest riser, as it does not come attached in the box. Adding the riser, which screws onto one side of the rectangular housing, adds about 7 grams per binding.
RT vs RSR
The RSR binding is La Sportiva's lightest race binding, saving your 30 grams over the RT. For this price you will pay $50 and lose two riser heights and all release adjustability. The toe pieces are very similar, featuring both skiing and locked-out modes and the ability to add a crampon should the going get slick. See our article La Sportiva Bindings for a more detailed comparison.
Specifications
Weight
convert to ounces
175g
Weight (pair)
350g
Boot Compatibility
Tech
BSL Adjustment
Optional plate
Vertical Release
Adjustable 5-10
Lateral Release
Adjustable 5-10
Crampon Ready
Yes
Design
Materials
Ergal® 7075 Aluminum, stainless steel
Skimo Co Says
Usage
Rando racing, light and fast tours
Bottom Line
Maximum safety at a minimum weight
Compare to other Lean Bindings
Questions & Reviews
Are there any brakes on the market right now that are compatible since these are now discontinued?
Answer this question:


The toe pins in my RT bindings have become quite loose. I assume the steel pins have wallowed out the aluminum arms.
Is there a way to fix this?
Scott,
No.
Surprised they lasted this long.
Answer this question:


Hello Skimo staff. I love your store/website. I also love my discontinued La Sportiva badged RT bindings. https://skimo.co/la-sportiva-rt-bindings. However, lately I've been a bit jealous of the more recent over the pins type risers rather than twisting the binding. Is there an aftermarket riser flap that might work with my old RT? I saw the Hagan badged flaps on your site and thought it *might* be possible considering both were made by ATK. Looking at the picture it seems like a long shot they would be compatible, but I thought I would check. Thanks!
Thanks for reaching out, Jeff. As you guessed, the Hagan heel flap won't work with the older RT binding as it requires a slot in which to insert a pin, which attaches the heel flap to the binding. With some ingenuity, you may be able to make something work, however, nothing "stock" exists to solve this issue. Please let us know if you have any other questions!
Answer this question:


Earn store credit by writing reviews. Learn more.

Model: RT