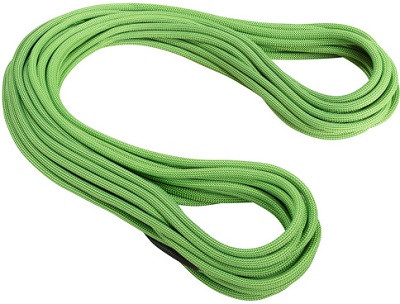 Mammut Serenity 8.7 Dry Rope
0 reviews
Serenity is defined as the state of being calm, peaceful, and untroubled. If that doesn't sound like fun, grab a Serenity rope and turn it up a notch. The 8.7mm thin rope is certified to handle all your troubles by being rated for single, half, and twin-style climbing. With a best-in-class sheath proportion of 38%, the Mammut alpine rope is durable and easy to handle. It also won't weigh you down after touching the snow thanks to the long-lasting core and sheath dry treatment. In short, it won't hold you back. There's a reason that that skiers who don't carry the 8.7 Dry line are much more likely to exclaim, "Serenity now!"
Coated Core and Coated Sheath technology allow for just 1% UIAA water absorption.
Dry treatment also keeps out dirt, making the rope longer lasting.
Dynamic elongation of 31% grants a low impact force if you take a fall.
Ultrasound welding of the ends prevents any sheath slippage.
Center marked and labelled with the original manufacturer specs.
| | | |
| --- | --- | --- |
| Rating | Falls | Impact Force |
| Single | 5 | 8.4kN |
| Half | 17-18 | 6.3kN |
| Twin | >20 | 9.7kN |
Weight: 51g/m. Static elongation: 9.1%
Specifications
Grams per Meter
51g/m
Weight
convert to ounces
3280g [60m]
3920g [70m]
Length
60m
70m
Dimensions
8.7mm
Strength
Single: 8.4kN
Half: 6.3kN
Twin: 9.7kN
Specs Verified
Yes
Design
Rope Style
Single, half, twin
UIAA Fall Rating
Single: 5
Half: 17-18
Twin: 20+
Skimo Co Says
Usage
Ultralight ski alpinism with technical terrain
Notes
Excessive elongation is nice on your back and neck if you take a fall
Bottom Line
A versatile technical workhorse with state of the art dry treatment
Compare to other Ropes
Questions & Reviews
Earn store credit by writing reviews. Learn more.

Model: Serenity 8.7 Dry