Maurten Fuel

Providing a simple assortment of products created only from natural ingredients, Maurten has figured out the best way to deliver energy to your system without negative side effects. Free of preservatives or coloring, the Maurten line is easy on the palette and the stomach. Using Hydrogel Technology, these products are able to deliver high amounts of carbohydrates without upsetting your stomach or ruining your outing. Maurten sets the standard for clean, long-lasting energy.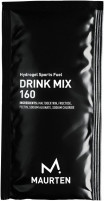 Hydrogel Technology is kind of a Maurten thing if you know what I mean. Actually, you probably have no idea what we're talking about. Let's start with their drink mix; providing either 160 or 320 calories per package, this stuff will send carbohydrates to..
From $2.70



We all hate some flavors: perhaps for you it's coconut, cilantro, or dill. Not to worry if your palette is sensitive, Maurten's Gel just happens to be flavorless. Created for anyone who wants to perform at their best, these flavorless wonders are next lev..
From $3.90


Sometimes you eat the bar...and only good things happen! Maurten's Solid nutrition bar will make sure the bar doesn't eat you out there on the skin track. Packed with 225 calories and 44g of carbohydrates, this low-fiber mixture will fuel the body and kee..
$3.00