Pierre Gignoux

Pierre Gignoux by Pierre Gignoux, the first and last word in specialty carbon ski mountaineering equipment. Pierre has been a member of the French national skimo team since 1995, and has won numerous championships at the international level. Utilizing state of the art carbon construction techniques, Pierre and his company create unique products designed for the podium.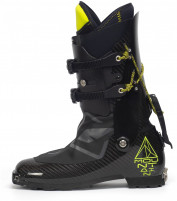 Billed as the downhill-oriented pony in the Pierre Gignoux stable, the Mountain is all about committing descents, far off the beaten path. Being handmade by Pierre Gignoux in the heart of the French Alps, the Mountain is made with meticulous attention to ..
$2144.95
While escargot, crème brulee, croissants, and creamy camembert are wonderful, no list of French delicacies would be complete without mentioning the Pierre Gignoux Black. Handcrafted deep in the French Alps, each and every boot is meticulously built, ensur..
$1847.95

Like his boots, Pierre Gignoux's bindings set the bar for lightweight performance. The U77 is one of the lightest ISMF-compliant race bindings on the market, and the fact that it comes with a brake is nothing short of impressive. Weight savings and durabi..
$549.95