Don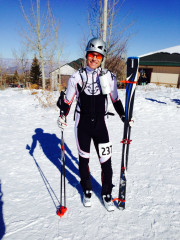 | | |
| --- | --- |
| Gender: | Male |
| Height: | 5' 9" |
| Weight: | 160 lbs |
| Shoe Size: | US 10.00 |
| Skier Type: | Type III+ - Expert |
| Ski Frequency: | 50 - 99 days / year |
My Skiing
Ski backcountry in the San Juan Mountains of Colorado about 80 days a year.

I've started skimo racing in 2014 for better winter fitness to aid my summer ultra running.
My Gear
Backcountry:
K2 Backup, Wayback, Coomback, and BackDrop skis (all with Binding Freedom inserts)
K2 skins for all
Dynafit ONE boots
Dynafit Speed Radical bindings

Skimo:
Dynafit PDG skis
Dynafit Race skins x 2
Dynafit PDG boots
Dynafit Superlight bindings
Recent Posts
Sure Jason, I use Dynafit PDG boots. I am 5' 9", 160lbs with an overall medium build. Cheers!
I've owned so many different gloves I couldn't count them. Until starting skimo racing I hadn't looked at Camp apparel that much. Well to my surprise they have some very functional gloves to offer. I went with the G COMP because of the goat skin palm for durability. I have a number of training & racing days on them already and I can tell they are going to hold up nice. I train mostly in the late afternoon and often get back to my truck after dark. The deployable wind shell is used almost every time. ...
These replaced my Excel Nordic poles for racing. They are more stiff and I've noticed that when skating & double poling. I also have noticed improved poling because of the Butterfly basket that has better purchase on soft snow surfaces. I've added 3M Gripping Material to align with my palm when my thumbs are hooked on the waist straps for steep climbing. I was surprised at how light they were and enjoyed the fact of getting better functionality without a weight penalty.
I have trained in this suit many times and completed a couple of races so far as well. I really like the overall design and functionality of this suit especially if you are using Dynafit boots with the Ultra-Lock System. Being able to store my extra skins internally is nice as well as the specific pocket for my Pieps Freeride beacon. The external pockets make transitions fast as well as the cut-out holes for the Ultra-Lock boot buckle. I have sewn Velcro to the back cut-out and adhesive Velcro to my boo...