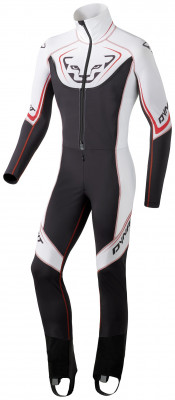 Dynafit Radical Racing Suit
4 reviews
Dynafit's Radical Racing Suit is a lightweight, form-fitting, speed machine. Designed to reduce drag and keep you comfortable, the suit uses specific ratios of materials in key areas to optimize movement and air flow. Easy access to Dynafit boot buckles and chest pockets to stash your skins make for fast transitions. Worn by champion racers around the world, the Radical Racing Suit also happens to be comfortable and functional enough for everyday ski mountaineering. So don't be surprised when you see the Dy.N.A. colors flowing up or down a couloir.
4 way stretch fabric is comprised of varying ratios of nylon, elastane, and polyester.
Wind-resistant suit has flat seams to reduce drag and chances of catching.
Stirrups hold the lower legs securely over your boots so you don't get wet while booting.
Strategic reinforcements let you cut holes for Dynafit Ultra-Lock boot buckles.
Two outer chest pockets can be used to stash skins while skiing.
Two inner stomach pockets can hold a beacon and other essentials.
Full chest zip can be opened down or up for quick access to stomach pockets.
Special front access zip for times you over hydrate and nature calls.
* Please note this is not an alpine racing suit and does not have padding for knocking gates; it's designed for skimo racing. Sizing is listed in US sizes, add a size for EU.
Specifications
Weight
convert to ounces
508g [M]
Ventilation
Mesh back
Hood
No
Pockets
2 outer chest, 2 inner stomach
Cuffs
Stirrups & buckle cutouts
Specs Verified
Yes
Design
Fit
Body
Materials
Elastane, nylon, polyester
Skimo Co Says
Usage
Racing, night on the town
Notes
Great flex and boot access
Bottom Line
Comfortable speed
Compare to other Men's Race Suits
Questions & Reviews
I'm 6'3", 32" waist, 165lbs. Is there hope or will I simply never fit into one of these suits?

thanks
Hi Brent, the mediums should fit you fine.
Answer this question:


Youth 14/16 is a Large or XL
Hey Dan, elaborate on that a bit. Youth 14/16 sounds to me like an Adult XS. Let me know if you need anything else.
Answer this question:


Does this suit have an internal zippered pocket for a beacon? Thanks!
Hey Patrick, the official beacon pocket on this suit is not zippered. You may want to double check internal vs. external pocket designation but if you have a small enough beacon you could probably fit it in the external chest pocket. I guess my official answer is no, but my unofficial answer is that if you have a small enough beacon you might be able to make it work. If that's not a good enough answer then I'm going to steer you towards the
Millet
, which does have an internal zippered beacon pocket.
Answer this question:


I am 6'3" tall 200lbs (34" waist, 34" inseam). What size suit do I need, L or XL? Thanks
Hi Cayce, the suits stretch pretty well in height/inseam so I would optimize more for you waist and get the L.
Answer this question:


Hey Jason, any chance you'll be getting any xs sized suits in stock soon?
Thanks!
Peter
Hi Peter, unfortunately not. You could check out the Millet with which a Small would be equivalent to an XS here. Also a Sportiva XS would work.
Answer this question:


Does the black/white option come with any exterior pockets? Looks like the other colors have a chest zip pocket.
Hi Dan, not other than the two large skin dumps.
Just to clarify on those two large exterior pockets on the 2014-15 black & white version, although their design is very basic, they have been very secure for me. I typically use the two interior accordion pockets pockets for my climbing skins (and the beacon flap for my car key). The two large exterior pockets have held phone, bluetooth, hat, headband, gel packets, large soft flask with water -- sometimes even simultaneously! The only drawback of their design is that they're quite deep, so small items can end up down low. But I've never had anything fall out from them.
Answer this question:


Hi! I really like the blue one, but I don't know if I better need the XS or S. I'm 168cm tall and my weight is normal, 61 kg.
Do you think that the S size could work?
Thank you!

Ferran
Hi Ferran, you are on the border so you could do either. The XS would be a tight fit, the S a bit more relaxed.
Answer this question:


Do you have the dynafit radical race suit in a small? Or, can you get it in small and how long would it take?
Hi Nancy, we will have smalls in the new red and blue colors within the next week or two.
Answer this question:


What size would I get if I'm 5"4? The size chart doesn't have a measurement for that.
Hi Brandon, being within the height range isn't super critical, but going off just that I would say Small. If the rest of the measurements look reasonable, it will work. We will have smalls in the new colors soon.
Answer this question:


Overall: Minus half a star for no hood, though partially compensated by a high collar. Minus another half star for some obvious cost-saving omissions, though compensated perhaps even fully by some highly effective design aspects. So, 4.5 stars, rounded up to Five Stars for the overall rating.

Background on product familiarity: Used for a portion of my training and racing during the 2014-15 season. I've also used recent race suit models from Crazy Idea, Texnar, and Soul Limit, plus the La Sportiva Syborg top.

First, the first impressions out of the box: Once recovered from the initial shock of the front-and-center Snow Leopard logo, when on the hangar the construction seems relatively simple compared to more contoured suits, but when worn on the body it's very comfortable for a slim fit, as well as accurate for the sizing chart. (Note though that both the sizing chart and the clothing label are differentiated for Europe versus U.S., e.g., I'm a medium among presumably skinny Euro metrosexuals yet a small in the Obese States of America.)

On the outside are two very large pockets with an elasticized closure, then behind the long front zipper are two large accordion-style pockets for climbing skins, and behind that is a smaller flap-closure pocket for ISMF 5.1.16 avalanche beacon compliance and/or other valuables. On the back is a massive extent of breathable mesh.

Up on top is no hood, but the high collar seals you up well against heat loss in the neck (yet is unobtrusive when unzipped). Down lower is a zippered fly. At the very bottom the gaiter is rather minimal, with the usual cut-your-own slots for your particular race boot model's walk-ski lever, combined with typical stirrups and what might be a unique tab for securing the bottom of the suit via a boot's instep buckle.

Second impressions, in use: The very basic elasticized closure on the large front pockets definitely saved Dynafit some money, yet they still work very effectively, with easy access yet secure closure. They are so large though that smaller objects can end up very far down – not a major drawback, but just something to keep in mind.

The front zipper has very smooth and easy operation when your fingers are very numb and nervous, while the inner accordion pockets are fairly standard for keeping your climbing skins warm and secure. (And if you really wanted to, then combined with the outer pockets, you could carry four pairs of race skins without any difficulty, although you might have some difficulty in coming up with a sensible reason to carry so many pairs of skins.)

The beacon pocket seemed secure when I test-carried a BCA T3, and it was also secure all season carrying my car key, with if anything excessive overlap in the flap-style closure, so I don't understand the negative feedback on this in other reviews.

The gaiter bottom's tab perfectly seals up the suit with a Dynafit EVO buckle (or probably any other boot model's instep buckle). Given the somewhat loose fit of the gaiter, the cut-outs can shift out of alignment with the Dynafit EVO walk-ski lever, but that happens to some extent on any suit with the Dynafit side-throw lever. If you want to potentially save yourself a precious second or two on each transition, I sewed some very small pieces of soft fuzzy velcro on the suit's inside near the cutouts, and then stuck a rectangular cutout of rough scratchy velcro on the EVO shell around the little square hole (into which the side-throw lever fits).

Once you're done skiing, even if the weather is warm, bring some sort of jacket or other top layer so that your Snow Leopard chest doesn't attract too much attention along the drive home at the gas station, supermarket, etc.

Third impressions, for long-term durability: So far everything is still in like-new condition, but obviously anything lycra has a limited life expectancy.
Just to clarify that my review is for the 2014-15 black & white version of the suit. The 2015-16 version not only has different colors but also a completely different exterior pocket configuration. I suspect that it might have other differences too -- this is not intended to criticize the newer version, but rather just a caveat that my review might not have any relevance for the current version.
Comment on this review:


I agree with everything stated above. Worst part of this suit is the beacon pocket. It's absurd. 1) There's no closure to it, it's just an open pocket. 2) the opening is on the bottom of the pocket. No, that's not a typo. The bottom. I wouldnt even keep a chapstick in that "pocket". I had to sew velcro into the opening so that I could close it.

Other than that, great suit....but really, there's not much going on in a race suit. Price no object, I'd go a different route.
Comment on this review:


I have trained in this suit many times and completed a couple of races so far as well. I really like the overall design and functionality of this suit especially if you are using Dynafit boots with the Ultra-Lock System. Being able to store my extra skins internally is nice as well as the specific pocket for my Pieps Freeride beacon. The external pockets make transitions fast as well as the cut-out holes for the Ultra-Lock boot buckle. I have sewn Velcro to the back cut-out and adhesive Velcro to my boot to keep the suit cut-out aligned with the boot. Without this I was always having to mess with the suit to get my buckle locked. I would've give the suit a 5-star review, but I wear a medium in everything and this suit in small is still a little too big for me.
Hey Don, what kind of boots are you using with this suit? Also, do you mind posting your height and weight for a sizing reference? Thanks!
Sure Jason, I use Dynafit PDG boots. I am 5' 9", 160lbs with an overall medium build. Cheers!
Comment on this review:


This is the first racing suit I have owned. It stretches and breathes quite well, which was expected since this is one of the most important functions for a racing suit. I was initially worried about the lack of a hood, which the previous edition had, but after about 15 uses I found a hood to be unnecessary. tlt5's work well in the stirrup and buckle closure hem system, although the rear cutout will sometimes ride over the boot entry. This problem may not exist in more low profile boots such as the alien/pdg.

There are several pockets in the suit: two exterior pockets, two interior pockets, and a beacon pocket. For my purposes, the interior pockets are the most useful, as they are the easiest to access. The exterior pockets are accessed from the top, near the top of the chest, making larger skins difficult to put in under a time crunch. I prefer to stash the skins in the interior pockets during races and efficient ski touring. The exterior pockets are used for other items such as a water bottle when resort uphilling. The beacon pocket has so far been the largest downfall of the suit design. My Tracker 2 falls out of the pocket. I put my beacon at the bottom of one of the interior pockets instead.

Durability seems to be okay so far, with some lost threads on seams in places. One small rip at the cuff has not spread, which is encouraging. I would recommend the suit overall, especially considering the price compared to its competitors. Embrace the lycra!
Comment on this review:


Earn store credit by writing reviews. Learn more.

Model: Radical Racing