toddball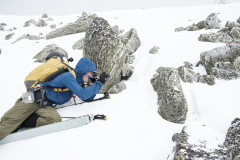 | | |
| --- | --- |
| Gender: | Male |
| Height: | 5' 9" |
| Weight: | 135 lbs |
| Shoe Size: | US 9.00 |
| Skier Type: | Type III - Aggressive |
| Ski Frequency: | 25 - 50 days / year |
My Skiing
Alpine skiing for 25 years, Nordic ski racing for 10, AT skiing for ~5. Have skied all of the Washington volcanoes except Rainier, done the Ptarmigan and Spearhead traverses in 2 days. Having fun in Snoqualmie environs for most of the winter.
My Gear
Salomon MTN Lab, Dynafit TLT6P boots

Fat skis:
Moment Meridian Tour, Salomon MTN bindings, Pomoca teal (Climb Pro Glide S ???)
DPS Lotus 138 Pure, Dynafit SSL 2.0, Pomoca Free Pro 2.0


Skinny skis:
Blizzard ZeroG 85, Dynafit SSL 2.0, BD Glidelite
Recent Posts
I only have 5000'/4 laps on these, but I think they're the best skins I've ever used. Surprisingly light and packable (much more so than BD Glidelite, e.g.), great grip and glide, and nice attachment. I did manage to bend one tip loop when I whacked it with my other ski tip; I bent it back, but if it breaks I will have to update this review. Also the pink coating on the tip loops is not very durable, but I don't really care. Glue seems to be just the right amount of sticky, so ripping skins with skis on...
What is the width of the tip loop?
Thanks jbo. Could you recommend a different talk clip kit that would work? Maybe the BD STS kit?
And a related question: does the "Camlock + Tail Kit" cover a pair of skins, or just one? I.e. how many do I have to order for one pair of skis?
How long are the tail straps? Have a 192cm ski and skins that were cut for a 186cm ski (and have one non-functional talk strap, which I will probably have to cut off); wondering if these will give me enough length. Thanks!