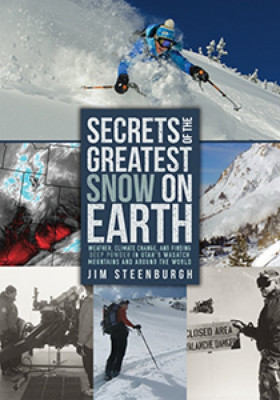 Secrets of the Greatest Snow on Earth 2nd Edition
1 review
Ever wondered why Utah brags about such great snow? Is it really because of lake effect? Or perhaps you know that a lingering northwest flow combined with orographic lift is a good thing for Little Cottonwood Canyon, but can't actually explain what that means. Thankfully for us, renowned meteorologist Jim Steenburgh took the time to answer these questions and many more in "Secrets of the Greatest Snow on Earth: Weather, Climate Change, and Finding Deep Powder in Utah's Wasatch Mountains and Around the World." In this book, he goes over the connection between winter weather and good skiing via topography, patterns, variables, and more. While it focuses primarily on Utah, the information can be applied to snowy mountains around the world. The 2nd edition features two additional chapters covering microclimates and climate change in greater detail. If you're someone who wants to better understand mountain weather in order to find better snow - which I hope is all of us - Steenburgh's "Secrets of the Greatest Snow on Earth" will prove invaluable.
Questions & Reviews
I learned about this book from the Utah Avalanche Center's podcast, with the author, Jim Steenburgh. Having been lucky enough to ski Utah powder, I was interested in increasing my knowledge about the science behind the snow. It accomplished that and more. As an amateur, I found the book to be an easy read, with lots of informative photos and diagrams.
Comment on this review:


Earn store credit by writing reviews. Learn more.

UPC: 9781646424283