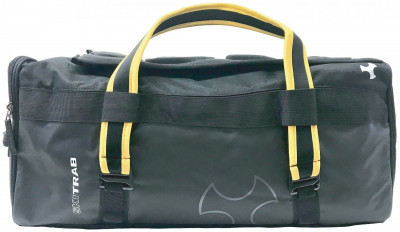 Ski Trab Altavia Travel Bag
0 reviews
Often an aspect of planning that's overlooked by eager skiers, you do in fact need to bring more than just skis, boots, and poles on ski trips! Thankfully, Ski Trab didn't forget and designed the Altavia Travel Bag to make packing clothes, toiletries, shoes, and other non-exciting essentials as easy as possible. Aside from the roomy main compartment, 12 zippered pockets allow you to keep everything nice and organized, instead of the classic throw-everything-in-the-duffel-abyss approach most of us are guilty of. Speaking of duffels, you can carry the Altavia like one or throw it on your back while schussing through airports. The padded back panel ensures that wearing it doesn't press a pointy item uncomfortably into your spine. The Ski Trab Altavia Travel Bag is simple, yet fully-featured, so you can be organized and spend more time reading your guidebook and less time packing and rooting around for stuff.
40 liters of carrying capacity for items big and small.
Neoprene and elastic straps make carrying comfy.
Full-length opening for easy opening.
12 pockets in addition to spacious main compartment.
Dedicated shoe pocket so you don't get dirt and mud all over your clothes.
Questions & Reviews
Earn store credit by writing reviews. Learn more.

Model: Backpack and Travel Bag
MPN: 52075
UPC: 8059830609121