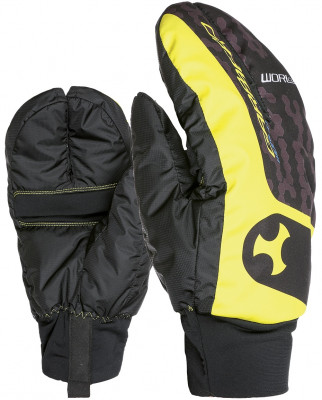 Ski Trab Lobster Overglove
0 reviews
Lobsters have claws and now you can too. Really soft and warm claws that is. The Ski Trab Lobster gloves fit over a thin glove, adding insulation in a pinch (pun intended). Your Middle and Fore fingers will be mated in one half of the overglove, with a safe separation from their shady little cousins Ring and Pinkie. This is a good balance between group warmth and dexterity. If you need even more dexterity in pinch (pun not intended), you can slip your favorite fingers out a handy slit in the palm. The whole finger family is related to Mr. Wrist by way of an elastic cuff.
Teflon reinforced nylon shell can endure family fights.
Light Primaloft insulation keeps the whole family warm.
Elastic neoprene cuffs allow for easy on/off action.
Palm is slit open for quick use of fingers.
Specifications
Weight
convert to ounces
55g [M]
Weight (pair)
110g [M]
Cuffs
Elastic
Screen Touch
No
Specs Verified
Yes
Design
Materials
Nylon, neoprene, leather
Skimo Co Says
Usage
Backup insulation
Notes
Slit in palm for fingers
Bottom Line
Warm and soft claws
Compare to other Overgloves
Questions & Reviews
Would your whole hand fit through the slit in the palm so that you could wear these gloves around your wrists when not deployed? Someone in a review on this site mentioned doing this with Crazy Idea over gloves. Would be nice to do the same with these.
Hi Ryan, I just tried this with a pair and it worked pretty easily. Your mileage may vary, depending on the size of your hands and wrists, of course.
Answer this question:


Earn store credit by writing reviews. Learn more.

Model: Overglove Lobster