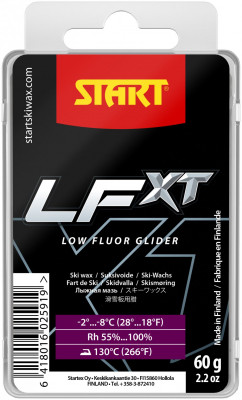 Start Low Fluoro XT Wax
0 reviews
Sometimes you need a little extra pep in your step or slide in your glide. Start's Low Fluoro XT wax line can get your skis or skins moving quickly in all types of conditions and temperature ranges. These water hating, hydrophobic fluorocarbon carrying waxes are just plain faster than their hydrocarbon counterparts. From cold touring editions to warm spring conditions Start boasts a range running from -13º to 44ºF (-25º to 7ºC for our Celsius using fans). So, treat yo'self and pick up some speed both up and down on your way to more vert and quicker skis.
| | | |
| --- | --- | --- |
| Wax Color | Temp Range | Celsius |
| Red | 44ºF to 26ºF | 7ºC to -3ºC |
| Purple | 28ºF to 17ºF | -2ºC to -8ºC |
| Blue | 21ºF to 10ºF | -6ºC to -12ºC |
| Green | 14ºF to -13ºF | -10ºC to -25ºC |
Questions & Reviews
Earn store credit by writing reviews. Learn more.

Model: LFXT