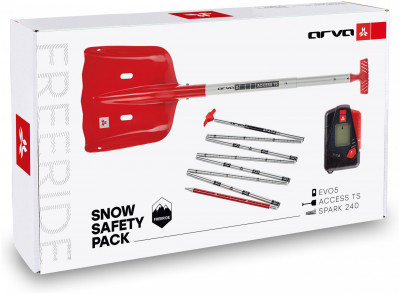 ARVA Evo5 Safety Pack
0 reviews
If you are new to the backcountry ski scene you will immediately hear that safety comes first. You can cover all your safety needs in one move with the ARVA Evo5 Safety Snow Pack. Including the amazing Evo5 avy beacon, Spark 240 snow probe, and Access TS shovel, your touring partners can feel confident that you have everything you need to help them out should anything go awry.
Incredibly light and compact, the Evo5 still comes with an impressive list of features including a 3 antennae design with a 50m range, Group Check, and Mark (multi-burial) function. The Spark 240 probe is made of strong 7075 aluminum sections with a stainless steel tension cord to help lock everything in place. The Access TS shovel has a telescoping shaft and T-shaped handle for efficient shoveling.
Evo5 Beacon - An avalanche transceiver with search bandwidth up to 50 meters.
Digital processor and 3 antennas provide 50 meters of searching range.
Motion sensor changes back to send-mode if you become involved in a secondary burial.
Multi-burial flagging is simple and effective.
Spark 240 probe –compact, strong, and efficient.
Eight 30cm segments will fit in most packs.
Stainless steel tension cable
Pin locking system for quick and reliable deployment
Pull handle snaps onto the shaft to keep it neat and easily accessible.
Access TS Shovel - Simple, sturdy, and reliable.
The, "TS," stands for telescoping; gain more leverage when you extend the shovel shaft from 32cm to 46cm.
Aluminum blade is strong without compromising on weight (620g total weight).
Compact blade size can still move plenty of snow.
Update 2022/23: Same great equipment in this year's pack with updated graphics. The handle on the Access TS shovel has a slight change as well with a more ergonomic shape.
Related Products
Questions & Reviews
Earn store credit by writing reviews. Learn more.

MPN: ARPACKV1EVO5