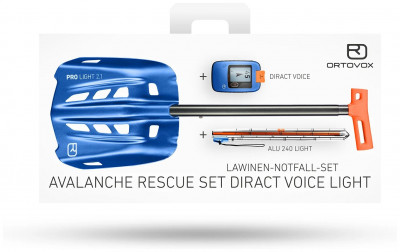 Ortovox Diract Voice Light Rescue Set
0 reviews
Ortovox turned heads when it released the Diract Voice Beacon… but only when instructed to do so. You see, the Diract Voice Beacon is the first of its kind - a fully functional avalanche transceiver that aids in search mode by giving clear and concise audio directions, in addition to the usual visual display. The Ortovox Diract Voice Lite Rescue Set combines this unique beacon with the high-quality, lightweight Ortovox Pro Light Shovel and the reliable Ortovox Alu 240 Light probe. Unfortunately, the probe and shovel don't talk to you but they will certainly get the job done in any avalanche rescue scenario. With this lightweight set, you'll have the three key pieces of gear you need for traveling in avalanche terrain.
Diract Voice Beacon:
50 meter search range for locating up to 4 burials.
Three antennas and SMART-ANTENNA-TECHNOLOGY nearly doubles your transmission range.
Clear Voice Navigation Diracts you where to go.
A large display gives you the ability to search visually in tandem with the audio clues for all you visual learners out there.
Rechargeable battery allows you to keep it topped off at all times.
Ortovox app automatically updates the beacons software so you can focus on other things.
9 language choices so you don't have to get out a translator in an emergency.
210g.
Pro Light Shovel:
Shovel blade is multi functional and can be used for a rescue sled or snow anchor.
Subtle ribbing makes for high strength but minimal bulk.
Telescoping shaft locks into place without fiddling with buttons.
Compact size is sure to fit in low volume packs.
459g.
Alu 240 Probe
Aramid tensioning system drops weight.
Breaks down into 7 small segments for increased portability.
Large probe tip and depth markers for locating victims.
245g.
Questions & Reviews
Earn store credit by writing reviews. Learn more.

Model: Rescue Set Diract Voice Light
UPC: 4251422538220