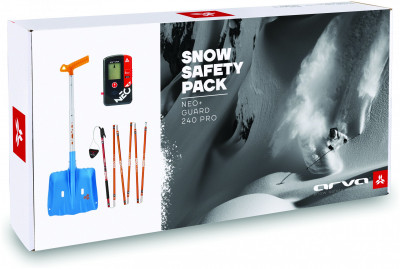 ARVA Neo+ Safety Pack
0 reviews
Whether you're buying your first backcountry safety kit, or just replacing the old trusty gear that you've had for years, you're in the right place. ARVA is one of the leading names in avalanche safety, and they just so happen to be the manufacturers of our favorite beacon here at SkimoCo, the Neo+.
The Neo+ beacon covers all your bases with a top-in-class accurate search range of 70+ meters, sensors which switch the beacon to "send" mode if the rescuer stops moving (in the event of a hangfire burial), and a harness which allows the beacon to be worn in search mode in the event that you need two hands to navigate the debris. The Pro 240 Probe is also a top-in-class product, and is made of sturdy aluminum sections with a kevlar pull-cord inside. The Guard shovel features an oval 40-55cm telescoping shaft with a Y-handle that your gloved/mitted hand is bound to clamp right onto.
Neo+ Beacon – An avalanche transceiver with search bandwidth up to 70 meters. Easy.
Digital processor and 3 antennas provide 70+ meters of search strip ability
Motion sensor flips back to send-mode if you become still.
Multi-burial flagging works simply and effectively.
Pro 240 Probe – A durable aluminum probe with ample length that is quick to assemble. Done.
A rubber grip on the end segment makes gripping this probe easy, even while wearing winter gloves.
Light and strong kevlar cord gives you confidence that your probe will hold together for years to come.
Assembled length of 240 centimeters (94.5 inches) allows you to probe deep into avy debris.
Guard Shovel - A telescopic shaft and Y-handle, clocking in at a light 520g. Wh"Y" say more?
Strikes a perfect balance between being light enough to bring along as well as actually being able to dig in debris.
Shaft telescopes between 40cm and 55cm long so it packs well and extends for good leverage while digging.
Anodized aluminum blade is 1.5mm thick, 24cm long x 25 cm wide.
Update 2020/21: This kit was replaced by the Neo Pro Pack.
Questions & Reviews
Earn store credit by writing reviews. Learn more.

Model: Neo+ Safety Pack
MPN: ARPACKV3NEO
UPC: 3700507909802