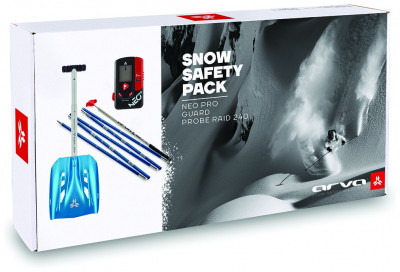 ARVA Neo Pro Safety Pack
0 reviews
From new backcountry users looking to get their first avalanche safety pack to enthusiasts who need a full upgrade of their old, trusty gear, the Neo Pro Safety Pack is an ideal choice for anyone in the business of playing in the backcountry. The Neo Pro Beacon is one of the most user friendly, fully-featured transceivers with a vast search range of 70+ meters, a motion sensor that will switch back to transmit mode if the user stops moving in the case of hang-fire, a standby mode for when you are digging rather than leading the search, and it comes with a harness that allows the beacon to still be worn even while in search mode. The Raid 240 Probe is sturdy and easily deployed with strong aluminum segments, a pin locking deployment system, and a stainless-steel tension cable. The Guard Shovel is compact yet strong, with two different shaft length options, and an anodized aluminum blade that is efficiently shaped for digging. Keep it fun, keep it safe, keep it simple with the ARVA Neo Pro Safety Pack.
Neo Pro Beacon -- fully featured avalanche beacon with 70+ meter search radius
Digital processor and 3 antennas provide 70+ meters of search range ability.
Analog Mode function takes full advantage of the main antenna's maximum range, expanding even further on its search range up to 80m.
U-turn alarm keeps searchers heading in the right direction.
Multi-burial flagging works simply and effectively.
Raid 240 Probe -- durable aluminum probe with ample length and is easy to deploy
Stainless steel tension cable.
Pin locking system for fast and easy deployment.
Rubber grip on shaft for easier handling.
6 40cm segments that deploy to 240cm.
Guard Shovel -- telescopic shaft with 2 length options, a compact blade, and an ergonomic T-grip handle
62cm and 76cm shaft length options.
Compact and durable 28cm long and 23 cm wide anodized aluminum blade.
Pin locking mechanism for fast and easy assembly.
Questions & Reviews
Earn store credit by writing reviews. Learn more.

Model: Neo Pro Safety Pack
MPN: ARPACKV3NEO
UPC: 3700507910716