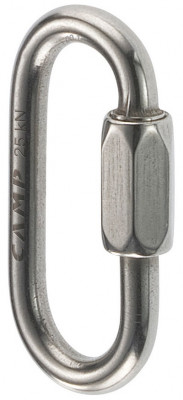 CAMP Mini Link
2 reviews
$5.95
In Stock & Ships Today
The Mini Link is an ultralight stainless steel oval that is good for rigging rappels. The ovals are only 5cm x 2.5cm in size and weigh 21 grams (0.7 ounces) each. Perfect for ensuring a smooth rope pull-down without weighing down your pack with hardware. The Mini Links are made with 5mm thick stainless steel and rated with a 25kN (5620 lbf) breaking strength. Not CE certified.
Questions & Reviews
Everything it says in the description. ultralight, ultrastrong, smooth rope pulldown. Everything I hoped for and no problems so far. They are small, so a thicker rope may not work. 6mm rope pulls silky smooth. My only fear is losing them/dropping them etc. Very small and light.
Comment on this review:


Great little pieces to use in a pinch that don't break the bank. I have used a couple of times with spare webbing for impromptu anchor assemble.
Comment on this review:


Earn store credit by writing reviews. Learn more.

Model: Oval Quick Link 5mm
MPN: 929
UPC: 8005436078601