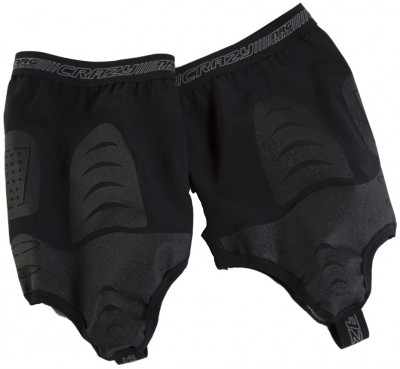 Crazy Idea Gaiters
1 review
Seal up your race boots with gaiters from Crazy Idea. The CI gaiters keep snow off your liners, which is especially nice when you're using race boots for adventure skiing. The gaiters are locked in place with stirrups and stretch-woven fabric. There are cutout areas for Dynafit UltraLock, Alien, and Syborg boot buckle systems. This means you don't have to futz with your pants when transitioning. The Crazy Idea gaiters let you cut weight on your boots without cutting snow protection.
Questions & Reviews
Would these work with a size 27 dynafit neo in tour mode? The description seems to indicate that I could open and close the top buckle without removing the gaiter, is it true? Oh, let it be so :)
Hey Mark! I don't have a 27 Neo to verify this for sure, but because of how stretchy they are and because you can cut out space for the buckles and whatnot, the short answer is: Almost definitely! Curious as to why you're looking to pop them onto some Neos though?
Answer this question:


Thanks for recommending this gaiter over the Scarpa version. It worked well and does the job of keeping my Aliens from becoming buckets of water on long spring tours. I have size 26.0 boots and they fit well. I wear them with my Crazy Idea pants and the system works. I wasn't psyched on the price, but what are the alternatives? Also, I wish they had some color in them. Keeping track of small black pieces of nylon, in a world of other small black pieces of nylon is tricky, but I guess that's on me. Two thumbs up as long as I don't lose them!
Comment on this review:


How well do these fit on size 27 alien 1.0, as the alien gator is out of stock...also curious how the durability looks after reading unanimous reviews complaining about the scarpa one getting easily cut and worn... thanks for the help!!
Hey Matt. I just tried it on an Alien 27.0 and they fit REALLY well. This gaiter seems like it was designed with the Alien as a model boot. There is even a little elastic hole that the BOA fits through so you don't lose adjustment capabilities.
Answer this question:


Earn store credit by writing reviews. Learn more.

Model: Gaiters Vol 1/2
UPC: 8059897422299