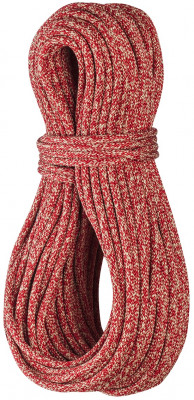 Edelrid Rap Line II 6mm
0 reviews
Edelrid made the amazing Rap Line a little more dynamic, just in case. Made from a blend of high-strength polyamide and aramid, this rappel line has unique dynamic properties and has been tested to withstand 2 falls at the twin rope standard. What this means to you, is that in an inadvertent slip or emergency scenario, your floss-thin line will be able to withstand a slight shock-loading. A good characteristic to have in a world of unknowns. The Edelrid Rap Line II is the new go-to skimo cord for skiing chutes that might not go.
Combination of aramid and nylon make this static cord just a little dynamic.
At a stated 31g/m weight, this line achieves its safety margin without a weight penalty.
Suitable for rappelling or hauling due to the low elongation values.
Comes in one pretty awesome color.
9kN max breaking strength.
Specifications
Grams per Meter
31 g/m
Weight
convert to ounces
1860g [60m]
2170g [70m]
Length
60m
70m
Dimensions
6.0mm
Strength
9 kN
Design
Rope Style
Rappel
UIAA Fall Rating
Two falls as a twin rope
Skimo Co Says
Usage
Haul systems, ambitious rappelling
Notes
The first dedicated rap line with a built-in dynamic "safety net"
Bottom Line
Light, supple, and one of the most "dynamic" static haul/rap lines around
Compare to other Ropes
Questions & Reviews
Earn store credit by writing reviews. Learn more.