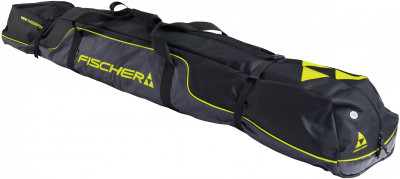 Fischer Skicase 3 Pair Race Ski Bag
0 reviews
Traveling with multiple pairs of skis can quite literally be a handful unless you can stash 'em all into one bag! The Fischer Skicase 3 Pair Race Ski Bag happily carries up to 3 skis 190cm in length. It also has handle straps for ease of carrying, compression straps to take up unused volume, and a double zipper to help make accessing your skis easy. If you've been searching for a solution to carrying multiple sets of skis, the Skicase 3 from Fischer is a mighty fine choice.
Questions & Reviews
Does this 3 pair ski bag come with wheels? There is only one picture here
Answer this question:


Does the bag hold 3 pair of Alpine race skis?
Hey Eric, the bag should be able to fit at least three pairs of alpine skis. Thanks
Answer this question:


Earn store credit by writing reviews. Learn more.

Model: Skicase 3 Pair Race
MPN: Z11321
UPC: 9002972546228