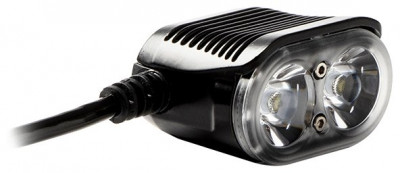 Gloworm Alpha RF Headlamp
0 reviews
Looking for a really bright headlamp capable of lighting up your nighttime adventures but feel like 2,000+ lumens is slightly overkill? The Gloworm Alpha RF brings a very useful 1,200 lumens and all the functionality, reliability, and quality that the New Zealand brand is known for, but at a friendlier price and smaller footprint. But by no means should you feel like you're settling. The Alpha RF will still allow you to keep excellent vision while boot packing, front pointing, breaking trail, sprinting uphill, making high-speed turns, and whatever else you do while ski mountaineering in the dead of night. Like others in the Gloworm lineup, the lightweight - yet robust - light is powered by a separate battery pack via the included cord. Possibilities galore, you can place the battery pack on your head, in your bag, or within your jacket. Included are several mounting options, a smart charger, a spare optic, a hex tool, the TX Remote, and more. Water-resistant and shockproof means that the Alpha RF can take any abuse your nocturnal adventures have in store for it. After experiencing the Gloworm Alpha RF, you won't ever want to go back to those meager, stretchy band-style headlamps.
Two hours of run time on max brightness of 1,200 lumens!
Waterproof (IP66) to withstand even the wettest of epics.
3.4 AHr lithium-ion battery with indicators keeps the light juiced.
Two optic system (Spot/Spot) and (Spot/Wide) allows you to pick the right beam for the situation.
Comes with battery, cable, smart charger, 31.8mm quick-release handlebar mount, helmet mount, universal light mount, spare optic, tool, bag, and remote!
Accessories are available here.
Specifications
Charging Time
Lumens
1200 lumens
Weight
convert to ounces
67g [light only]
216g [whole system]
Battery Life
2 hrs max power
Waterproof Rating
IP66
Specs Verified
Yes
Skimo Co Says
Usage
Racing, night skiing, dawn patrols
Notes
Accessory options mean an easy transition from night skiing to night biking when spring rolls around
Bottom Line
Sweet little setup with plenty of power to get you down to the car after an amazing night ski experience
Compare to other Headlamps
Questions & Reviews
Earn store credit by writing reviews. Learn more.

Model: Alpha Lightset RF (G1.0)
MPN: GW10022
UPC: 615867421143